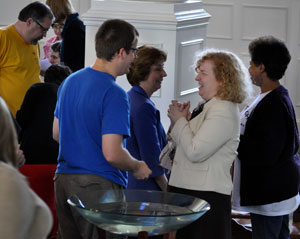 The Seminary provides numerous resources for churches. Please scan the list below and learn more about how the Seminary and your congregation can partner in ministry.
The Preaching Association at PTS is a resource for local congregations, which provides pulpit supply for churches in the Pittsburgh region and outlying communities. This program also provides invaluable preaching opportunities for Seminary students. Although churches and presbyteries each set their own honorarium fee, the recommended rate per Sunday is typically $100 for churches within a 1 hour radius from the Seminary,$125 for churches within a 1-1 ½ hour radius from the Seminary, and $150 + mileage (at IRS rate per mile) for churches located more than 1 ½ hours from the Seminary.

Contact the Preaching Association at preachingassoc@pts.edu or 412-924-1438. When leaving a message, please include your name, e-mail address, phone number, the dates for which you are requesting, and the name and location of your church. You may also use the online form to submit your request. Please contact us as early as possible though last minute requests can usually be accommodated as well.
One of the requirements for students pursuing the M.Div. degree at the Seminary is a year of supervised ministry in a congregation or other approved setting. Learn more about how your church can welcome a PTS to your ministry team.
Guest housing is available on campus for pastors and lay leaders attending a Continuing Education course or spending their study time at PTS using the library and other resources.
Know a high school junior or senior interested in theology? Recommend that they attend the annual Summer Youth Institute.
What to learn more about mission opportunities? Connect with WMI to see how they can help your church to become more missional.