Gifts of $1,000 or more substantially increase the annual impact of guest lectureship endowments.
Kelso Lecture in Honor of Martin Luther King Jr.
Fosters the Seminary community's celebration of the life of Martin Luther King Jr.
Ritchie Lectures in Christian Education
Supports the annual fall Teacher Training Workshop for pastors and laypersons
Albright-Deering Lectures in Methodist Studies
Brings to the Seminary outstanding scholars in the Wesleyan tradition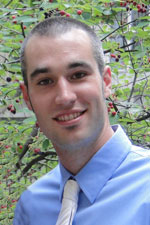 Charles E. Cotherman '12, Thomas Chalmers Scholar
Upon graduation from PTS, Charlie began doctoral studies in American church history at the University of Virginia after receiving its prestigious Jefferson Fellowship, a five-year merit-based award given to only a dozen students showing excellence in leadership, scholarship, and citizenship. Charlie credits PTS professor-mentors with teaching him by example how combining rigorous academics with practical Christian living can be done—and done well.



Return to Substantial Impact Gifts Strengthen Academics