Gifts of $5,000 or more substantially increase the annual impact of scholarship endowments.
Merit Scholarships
The Bill and Jane Carl Presidential Scholarship Endowment
Established in 2013 by Pittsburgh Seminary to honor President and Mrs. William J. Carl III
The Herbert Lamberson Presidential Scholarship Endowment
Established in 2010 by Herbert Lamberson through his estate
The Standish Family Presidential Scholarship Endowment
Established in 2011 by the Honorable and Mrs. William L. Standish
First Presbyterian Church, Flint, Michigan: The David E. Molyneaux Honors Scholarship
Established in 1977 by the church in honor of their pastor
First Presbyterian Church, Neenah, Wisconsin: The Neenah Honors Scholarship
Established by the church and funded with grants from the John N. Bergstrom Endowment Fund
The Catherine and Andrew Purves Merit Scholarship
Established in 2006 by John and Virginia Ferguson of Atlanta, Ga.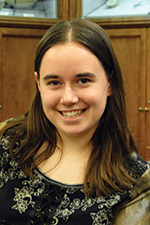 Alina Kanaski, Presidential Scholar
As an undergraduate, Alina double-majored in German and biology and gained experience in campus and children's ministry. After a family friend suggested that she think about going to seminary, she first learned about PTS from campus pastor the Rev. Ellen Dawson '09. Impressed by the Seminary's commitment to mission through our booth at the national Urbana '12 conference, Alina applied to PTS and enrolled right out of college. She's already gone to South Africa on a World Mission Initiative short-term trip.
Recognition Scholarships
Shadyside Presbyterian Church: The Titus Basfield Scholarship Fund
Established in 1994 with a lead gift from the church in recognition of the first African American student to graduate from a Presbyterian Seminary in the United States, and awarded to an African-American student (Titus Basfield graduated in 1842 from Canonsburg Seminary, an antecedent of Pittsburgh Seminary.)
The Betty Missakian Memorial Scholarship Endowment
Established in 2003 by Dr. Michael Missakian, with preference giving to supporting students of Armenian descent
The Korean Scholarship Endowment
Established in 2008 by Sun Y. Joo to support students of Korean heritage
The Lee Anna Starr Endowed Scholarship
Established in honor of the first female graduate of Pittsburgh Seminary, and normally awarded to a female student (Lee Anna Starr graduated in 1893 from the Allegheny Theological School, an antecedent institution of Pittsburgh Theological Seminary, and was ordained in the Methodist Protestant Church in 1895.)

Need and Need-Merit Scholarships
East Liberty Presbyterian Church Scholarship Funds
Includes the L. W. Hicks Scholarship, the Dr. Stuart Nye Hutchinson Scholarship, and the William Robinson Scholarship
East Main Presbyterian Church: The Alice and Margaret McCoy Scholarship Fund
Established in 1968 by the church's Women's Association
Fox Chapel Presbyterian Church Scholarship Funds
Includes the Donn and Qata Greenshield Memorial Scholarship Fund established in 1962; the John K. Bibby Scholarship Endowment established in 1981; and the Fox Chapel Presbyterian Church Endowed Scholarship created for Presbyterian students at Pittsburgh Theological Seminary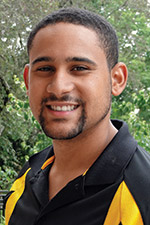 Gavin Walton, L. W. Hicks Scholar (East Liberty Presbyterian Church)
Gavin lamented his biracialism for a long time before embracing it as God's unique call on his life to stand as a witness to our freedom in Christ—including freedom from racial stereotypes. "It's the kind of freedom that comes, not when you no longer see difference, but when you are finally able to see each person in his or her own particularity," says Gavin. Living in "the freedom to which God calls all peoples of all races" undergirds his approach to ministry.

Latrobe Presbyterian Church: The Rev. Robert R. Vogelsang Memorial Fund
Established in 1983 by the church in honor of their long-time pastor
The Presbyterian Church, Sewickley: The Ray H. Pierson Scholarship
Established in 1989 with a lead gift from the church in recognition of Rev. Pierson's 40 years of ministry in the Pittsburgh Presbytery
Westminster Presbyterian Church: The John H. Galbreath Scholarship Endowment
Established in 1984 by the Upper St. Clair (Pa.) church and made possible through a generous bequest from Margaret and Ed Stockdale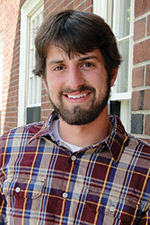 Keith Sandell, Ray H. Pierson Scholar (The Presbyterian Church, Sewickley)
The son of a 1986 Pittsburgh Seminary graduate and the brother of a 2012 alum, Keith has PTS and pastoring in his blood. In fact, he's been doing pulpit supply since age 19! Having felt God's call to seminary at the end of high school, he now serves on the PTS chapel team and works in the admissions office. As a pastor, Keith wants to emphasize church restoration. "I'd love to be God's instrument to help struggling churches get back on the right track," he says.
The Andrew Reed Scholarship
For the entering student who achieves the highest grade in a competitive English Bible exam
The Rev. George E. Tutwiler Scholarship Endowment
Established by Pittsburgh Seminary in 2013 in honor of Rev. Tutwiler's 30 years of service to the Seminary as organist/choirmaster and instructor in church music and United Methodist Studies
The Robert L. Kelley Jr., Ph.D. Endowed Scholarship
Established by Pittsburgh Seminary in 2013 in honor of Dr. Kelley's more than 63 years of affiliation with and service to the Seminary
The Rev. Dr. Stephen Polley Scholarship Endowment
Established in 2013 by Mrs. Betty J. Polley in recognition of her husband's distinguished service on Pittsburgh Seminary's board of directors, alumnae/i council, and World Mission Initiative advisory board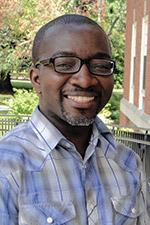 Bernard "Ben" Nti, Thomas J. and Janet Rigdon Jackson Scholar
An international student, Ben knows how to put anyone and everyone at ease. His perpetual smile warmly greets people in any venue, from home to the halls of PTS. God's love is written all over Ben's face, and he uses this Spiritual gift to welcome people to the church—including through the Metro-Urban Institute as a work-support student and the World Mission Initiative as a mission-trip participant. After seminary, Ben plans to return to Ghana as a pastor.

Doctor of Ministry Scholarships
First Presbyterian Church of Kirkwood, Missouri: The Lewis R. Thomas Scholarship Endowment
Established in 1996 by the church and the family of its pastor from 1983-1995
The Glenn and Dorothy L. Mowers Scholarship Fund
Established in 2002 through the bequest of Dorothy L. Mowers, and awarded to pastors serving small churches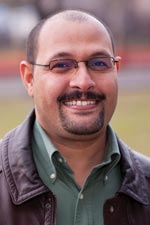 Mouris Yousef STM '07, Science & Theology Focus
Mouris Yousef grew up south of Cairo. In a 10 percent religious minority, he went straight from high school to the Evangelical Theological Seminary in Cairo, and straight from ordination in the Egyptian Presbyterian Church to a pastoral call. But an underlying interest remained: Christian ethics. In the D.Min. Science & Theology track, Mouris focuses on medical ethics. As the first Egyptian Presbyterian pastor to specialize in ethics, Mouris wants to provide Cairo's seminarians with courses in this area.

Return to Extreme Impact Gifts Advance our Mission