Gifts of $2,500 or more substantially increase the annual amounts of mid-program and graduate awards.
Mid-program Awards
The Fred McFeely Rogers Prize in Biblical Studies is awarded at the end of the recipient's first year at Pittsburgh Seminary.

The Walter P. and Anna L. McConkey Prize in Homiletics is awarded to a rising senior.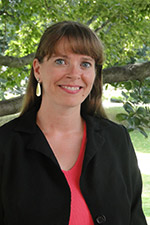 KJ Norris-Wilke '14 received the McConkey Prize in Homiletics.
Formerly a high-school science teacher in Philadelphia, KJ headed west across the state to follow her call to seminary. Maintaining her interest in science, as a PTS student she volunteered on The Zeitah Excavations and worked in the Kelso Museum of Near Eastern Archaeology. KJ also traveled to Senegal with the World Mission Initiative, served as president of the Peace & Justice Fellowship, and edited the 2013-14 issue of the Pittsburgh Theological Journal.
Graduate Awards
The Edwin Dwight McCune Award for an International Student is given to a student who will minister in his or her homeland.

The Middlesex UPC (USA) Memorial Prize in Biblical Studies recognizes outstanding work in biblical studies.
The J. Watson Prize in Greek is awarded for the best grammatical and exegetical treatment of a portion of the Greek New Testament.

The William B. Watson Prize in Hebrew is awarded for the best grammatical and exegetical treatment of a portion of the Hebrew Old Testament.

The Robert A. Lee Church History Prize recognizes outstanding work in church history.

The Robert M. Ezzell Homiletical Prize is awarded for excellence in applying the insights of popular culture to theology.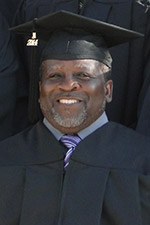 Michael Golphin '14 received the Ezzell Homiletical Prize.
An ordained Baptist minister and pastor of the Deliverance Baptist Church in Wilkinsburg, Pa., Michael is also a skilled carpenter. Prior to becoming pastor of Deliverance Baptist, he used his skills to lead the complete renovation of the church's sanctuary. In addition to carpentry and ministry, Michael cares for God's creation through his love of gardening. He plans to further his theological studies by earning a D.Min. in urban ministry.

Return to Substantial Impact Gifts Strengthen Academics