"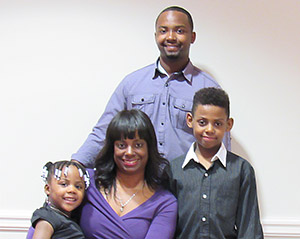 For surely I know the plans I have for you, says the Lord, plans for your welfare and not for harm, to give you a future with hope." Jer 29:11
When first-year M.Div. student Gloria Potter founded Lotus Real Estate brokerage firm in 2008, other experts in the field would have considered such an ambitious endeavor counterintuitive because the turbulent, global economy was on the brink of collapse. In spite of that, Gloria, a Pittsburgh native, was able to lay claim to God's promise in Jeremiah 29:11 by building a thriving business that earned her a Mayor's Proclamation (Lotus Real Estate Day) in 2014.
Gloria's interest in pursuing an M.Div. was piqued when she attended an orientation for Duquesne University's juris doctorate program and learned of its dual-degree partnership with PTS. Her experiences in promoting home ownership, providing financial education, and engendering personal and spiritual development have especially equipped her for both programs. Gloria hopes that her multifaceted education and expertise will position her to serve religious organizations in ways that honor God and make divine use of her legal and ministerial gifts. In addition to her divinity and law studies, Gloria is also seeking the Graduate Certificate of Urban Ministry through the Seminary's Metro-Urban Institute.
"I believe that God has given me a passion for people," says Gloria of her unique call, which has manifested itself formally through her commitment to educating, mentoring and inspiring young people to pursue home ownership, and more informally through her willingness to open her home as a place of respite for children, youth, and adults.
Growing up the youngest of 11 children, Gloria is no stranger to the life-changing power of unconventional ministries. After all, her mother, the late Rev. Dr. Rosemarie Sanders, who was an ordained Baptist minister, had founded "Lifeline Ministries," a home-based, youth ministry which planned and facilitated programming that provided a Christian alternative for her own, tight-knit family and countless adolescents in their community.
It is impossible to overstate the influence that Gloria's mother, whose advanced education culminated with a doctorate of theology, had on her community and on Gloria's own spiritual development. As the Rev. Dr. Sanders, a PTS alumnae (class of 1992), pursued her M.Div., Gloria supported her in academics and ministry in any way that she could. Not only was Gloria actively engaged in all of the youth programs at her mother's church; but she also assisted with Sunday school and faithfully attended church retreats and national conferences at her mother's side. Gloria acknowledges that "Through these experiences, I grew to understand how important a personal and intimate relationship with God is."
Gloria has three children: Meleak (23), who is studying at the University of South Carolina Beaufort, Charles (10) and Abigail (4). As a mother, full-time seminary student, community leader, and sole proprietor of a flourishing business, Gloria continues to achieve success with the tenacity, fearlessness, and faithfulness that her parents modeled for her in life and death. Her father, the late Charles C. Sanders, was the founder of the first, black-owned trucking company that worked with large developers and won government contracts during an era when minority-owned business garnered little support from local or federal governments. As Gloria continues to discern how God is calling her to use her extraordinarily dynamic gifts in ministry, she is grateful to be able to continue the time-honored legacy of her parents.