The Metro-Urban Institute fellowship is an eight-month paid, urban immersion experience for seminarians enrolled in the Graduate Certificate in Urban Ministry at Pittsburgh Theological Seminary. This fellowship offers PTS scholars the opportunity to engage in communities and advance social justice, equity, and transformation in Pittsburgh's urban communities.
During this fellowship, scholars are enrolled in master's-level classes while working with community organizations on specific projects in one of the following fields: education, vocational development, business, technology, law, the arts, medicine, government, urban agriculture, or youth and/or senior ministries. Fellows also work alongside the Larimer Consensus Group, engaging in community-based research, aiding their efforts to ensure the revitalization of Larimer is reflective of the needs and desires of the residents of the community.
In addition to their community-based work, fellows attend weekly Bible studies to discuss their community-engaged experiences and the way in which it correlates to their theological education and personal development. Fellows are also assigned an East End mentor experienced in social justice ministry to support the students in further contextualizing their experience and discerning the way in which they are called to urban ministry.
The Metro-Urban Institute Fellowship provides monthly professional development seminars through the Metro-Urban Institute Urban Leadership Series, comprised of workshops and lectures aimed at equipping organizations and individuals with the tools and skills necessary to address issues in urban communities. This series is held the first Monday of every month during the school year and facilitated by various community subject matter experts. The Urban Leadership Series provides free community-focused professional development to Pittsburgh Theological Seminary students and the community at-large. These sessions are open to the public.
Program Overview
$600 monthly stipend
Time commitment of up to 20 hours per week
Mandatory attendance at monthly professional development sessions and weekly Bible studies
15 hours per week at an approved community organization
Attendance at Larimer Consensus Group's monthly community meetings
One week of community-based research along with various community engagement requirements throughout the program
One hour of monthly mentoring
Function as an MUI and community ambassador within the Seminary and a PTS ambassador within the greater community
Qualifications
A strong commitment to urban ministry
Enrollment in the Graduate Certificate in Urban Ministry
A minimum GPA of 3.0 in undergrad or GCUM courses
An exceptionally strong work ethic
A desire to work within the diverse communities of Pittsburgh's East End
Excellent relationship-building skills and ability to work effectively in a team-based environment
Not enrolled in Field Education during fellowship year
Apply for the Metro-Urban Institute Fellowship
For information on the Metro-Urban Institute Fellowship contact Joan Haley at jhaley@pts.edu or 412-924-1363
Meet Our Fellows
Zachary Bailey
Zachary Bailey is in his second year of the master of divinity degree program. With a particular interest in youth mental health issues and the gap in experience of minority and white youth, Zachary works at Primary Care Service, Inc. and with supervisor Kiva Fisher-Green. He focuses on Homewood youth and coordinates with Homewood Children's Services. In addition to the MUI staff, the Rev. Bryan McCabe of North Way Christian Community Church will serve as Zachary's mentor.
Zachary hails from Grove City, Pa., and is passionate about having authentic conversations with people of different understandings, experiences, and cultures with the intention of learning from them. He loves playing sports, reading, working out, collecting Lego sets and playing video games.
When asked about his future, Zachary responded, "I don't know what it looks like exactly yet, but I hope my future career is something that I find fulfillment in, a living out of the gospel in an effective and true manner, maybe serving in a church or in an organization."
Ciera "Cici" James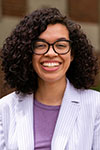 Cici James is pursuing the Seminary's joint master of divinity and master of social work (with the University of Pittsburgh) degree and Graduate Certificate in Urban Ministry at PTS. Cici was also awarded the Child Welfare Workforce Excellence Fellowship at the University of Pittsburgh, a two-year fellowship where she will work with children at Children and Youth Foundation.
Cici comes to Pittsburgh from Chesapeake, Va., and has been active in her church and with youth. She is passionate about adoption, foster care and mental health, and in her leisure enjoys dancing, going on walks, and playing the cajon.
As an MUI Fellow, Cici will be working at Three Rivers Youth, helping to facilitate adoptions and foster care placements for children in Allegheny and surrounding counties. Cici's primary work will be with Trac Family Services, a division of Three Rivers Youth, and her supervisor is Amy Szymanski.
When asked about her goals for the future, Cici replied, "In the future I hope to either work in college ministry as a campus pastor or chaplain, or work with teenagers in foster care, helping to equip and support them as they age out of the foster care system, or both!"
James Wimberly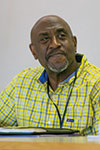 Having recently completed the Graduate Certificate in Urban Ministry in May 2019, James is now pursuing a master of divinity degree. With more than 20 years of ministry service, he has served as a deacon, Biblical lay counselor, and Praise Team leader and sings in his church choir. Additionally he has led youth and drama ministries over the years. With a degree in business, James has had a long career in management. Originally from Detroit, Mich., he loves good music, watching and playing basketball, playing golf, bowling, and thrifting.
James will work at Amachi, an organization empowering youth to overcome the challenges of parental incarceration and to reach their full potential through one-on-one mentoring, family strengthening, and leadership development. His supervisor at Amachi is Anna Hollis, and his mentor is Rev. Torrey Johnson, rector at Holy Cross Episcopal Church.
In the future, James stated, "My hopes are to work in ministry full time. I'm unsure of a specific position or direction at this time, but I'm hoping to discover this over my time at PTS and as I am in ministry training in my home church, Baptist Temple. "