During this global pandemic when the entire world is in self-isolation, it can be so easy for us to focus on our own needs, safety, and problems. We tend to forget the connection and responsibility we have for one another whether with our family, friends, church members, or our global partners.
Pittsburgh Theological Seminary's relationships with three global seminaries remind us that now is a good time to lift one another up in prayer. PTS has signed a partnership agreement with St. Tikhon's Orthodox University in Moscow, Russia, and interim global partnership agreements with the Divinity School, Silliman University, Dumaguete, Philippines (signed August 2019 for a two-year period), and with Reformed University of Colombia, Barranquilla, Colombia (signed August 2019 for a two-year period). Through these partnerships, PTS students and faculty have had the opportunity to expand their understanding of God's mission through teaching and learning from one another. Below are updates we received from two of these institutions and their respective churches on how they are coping with the present crisis.
St. Tikhon's Orthodox University, Moscow, Russia
"As in the United States, universities and seminaries in Russia are closed and are giving instruction online, as is St. Tikhon's. The university church had to close in late March after one of the priests was diagnosed with COVID-19. Thankfully, other priests have remained well, but the situation in Moscow, where the university is located, is now under a very strict lockdown through at least the end of May. All churches and monasteries are closed. Parks are closed. People may leave home only to go to the nearest grocery store or pharmacy or to the doctor. They may not take walks. People deemed essential workers must have special passes issued by the government. Many people are experiencing anxiety and depression because they live in small apartments, often with several other family members, and can go nowhere for a break. There are fears of coming food shortages.
Russia now has the second highest number of infections worldwide, behind the United States. The situation remains very serious. The rector of the university is thankful for our prayers from the PTS community and also holds us in his prayers." – Dr. John Burgess, PTS's Professor of Systematic Theology and PTS's contact with St. Tikhon's Orthodox University
Reformed University of Colombia (CUR), Barranquilla, Colombia
"Since the pandemic was announced, we as a university have been working to support and accompany our students, professors, and administrative staff. This new reality challenged us. The university moved forward to virtual education, but we quickly realized that our students do not have any computers, smartphones, or Internet connections to attend their classes. Therefore, we decided to support them by providing access to the Internet and computers.
Also, we are developing different ways to keep supporting our people. We continued our social and psychological support through access to mental health campaigns for everyone who needs it or wants it. Furthermore, we are still trying to live out our commitment to solidarity in our community centers by providing some food, along with psychosocial and spiritual support.
We think at this moment faith is very important, so we respectfully invite you to keep in your prayers all our students whom can't study next semester because their families are facing hard situations." – Guillermo Pallares Rodriguez, CUR's International Programs Coordinator
In March, as part of this global connection WMI Drector Hunter Farrell was able to participate in a webinar with other global church leaders entitled "Ecclesial and Educational Challenges in the time of COVID 19" organized by our seminary partner from Colombia, the Reformed University. You can read the highlights from that conversation here in Spanish (you can translate the page into English using Google translate in Chrome browser) or you can watch the entire conversation in Spanish here.
By The Rev. Ayana K.H. Teter, PTS Director of Vocational Discernment and Placement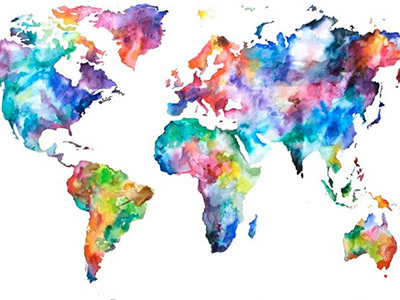 This year I had the pleasure of administering a new assessment instrument. After training last summer to become a "qualified administrator" I was able to use the Intercultural Development Inventory (IDI) with this year's incoming class at PTS. The IDI is a simple, online survey that describes an individual's methods of responding to and navigating cultural differences—a person's cultural competence—along an Intercultural Development Continuum (IDC TM). The continuum describes a knowledge base, attitudes, and skill set—or orientation—toward cultural difference and commonality organized from the monocultural orientations to the intercultural or global mindsets. The capacity to deeply shift one's cultural perspective and bridge behavior across cultural differences is most fully achieved when a person maintains an intercultural outlook.1
All incoming students were invited to engage with the IDI in three distinct ways. First, by completing the brief online survey, students were afforded an opportunity to redefine and reassess how they view and engage cultural differences within their community. After the online portion, students were gathered together for an in depth look at the developmental continuum. At each of these group sessions, held throughout the academic year, students were invited into a safe space where they explored their own assumptions around culture, gained a common language, and nurtured new ideas to increase their individual cross culturally proficiency as a benefit to the wider global community. As students shared their personal stories of cross-cultural engagement, space was created for robust conversation about the diversity of ways to navigate cultural differences in our communities. The group discussions nurtured a desire for personal growth and a vision for further development that students can take with them into their seminary career. I was also able to have an individual meeting with each student to review their personal profile, plan further developmental opportunities, and learn of their unique intercultural experiences that have informed their developmental stage.
Together we discovered that the incoming class spans a wide range of developmental orientations (from the more monocultural to the very intercultural orientations) with most students functioning primarily from a developmental orientation that tends to highlight cultural commonalities while concealing important cultural differences. Additionally, due to the wide range of developmental stages represented by the students, targeted intercultural competence development is needed for students to realize a shared vision and shared focus to meet educational objectives in a culturally diverse environment.2 Because the IDI is a developmental inventory, providing a method and a pathway for individual to grow and develop, I have found it to be an invaluable tool that communities can use to engage cross-cultural work in different contexts. It is my hope that our institution would continue to prioritize student cultural competence—with targeted developmental opportunities—so we can continue to develop ministry leaders who are bridge builders and change makers within an array of global contexts
1 Adapted from IDI, LLC.
2 According to IDI, LLC.