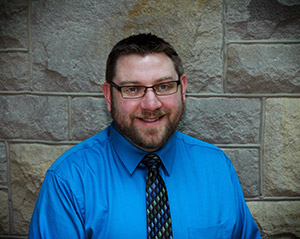 The church needs millennials. Millennials need the church. But many churches aren't prepared for young adults—"they haven't had them in a while and have fallen out of practice in relating to them in meaningful ways." That's the short answer Jeff Schooley '09/'10 gives for joining the editorial board of the recent Presbyterians Today issue focusing on young adults. "I yearn deeply and truly for members of my generation to experience the life-giving nature of the church. [Working on] this issue of PT has been a great way to talk to the whole church about a group of people I love dearly," Jeff explains.
In April 2013, the three members of the issue's editorial board flew to Louisville for several days of brainstorming with the editors of two other publications (Horizons and Justice Unbound) focusing on the same topic. From there, the PT board solicited submissions for articles broadly answering the question, "What are the cultural experiences that have shaped what young adults expect and want from a religious community?"
The editorial team received 60 submissions in their search for articles on the socio-economic-religious culture of today's young adults—articles giving sound sociological data and insights, offering authentic personal narratives of young adults both in and beyond "our denomination's borders," and engaging a widely diverse audience. Among the board's top selections were articles by six PTS students and alums, in addition to Jeff's own article: "Digging up the dirt on the millennial generation: A look at the cultural and religious experiences that have shaped young adults and their desires for the church."
In soliciting articles, "I intentionally sought out [PTS] friends and colleagues I knew to be bright, faithful people who loved millennials. Rebecca Verley ['The branded generation: Evangelism in the millennial advertising minefield'] works as a campus minister and spends every day working with millennial college students. Kendra Buckwalter Smith '12/'13 ['From singles to playlists: Music and worship for the millennial generation'] took the emphasis of her STM thesis and applied its insights to her own understanding of millennials. Gavin Walton ['Biracial in a monoracial world: A generation's search for freedom'] brought his remarkably articulate understanding of race into conversation with his baptism. I know these folks very well and knew that they would serve the magazine, their generation, and the whole denomination," Jeff comments.
In addition to these articles, Ryan Pixton '10 contributed "Finding home: Five ways congregations and young adults get it wrong when trying to find a match made in heaven"; Andrea Ceplecci Hall '07 wrote "Why we're not interested in your Sunday school: Young adults seek new forms of Christian education"; and Eric Vinsel authored "A two-way street: How my seminary internship became the single most important experience in shaping me as a pastor."
"We were ambitious in our scope," notes Jeff. "We wanted millennials who read these articles to say, 'Yeah, that's right!' We also, however, wanted older generations to say, 'Hey, I think I get it now!' The hope was to help millennials see their way into the church and to help the church see real, authentic, meaningful ways that millennials could be involved and integrated into the church. Too often young generations are courted in the church so much that they become a prize to be possessed and not people to love. I want the church to work just to be the church with and for millennials."
Jeff realizes that "figuring this out will take a lot more than an amazing publication." But the broader dialogue he hoped the issue would spark has already begun—and Jeff will continue it in his new call as head pastor of Center Presbyterian Church, in McMurray, Pa., starting June 2.
Please note articles were originally published in the May 2014 special edition "Guide to Young Adult Ministry" of Presbyterians Today magazine. To subscribe or read more articles from this issue, go to www.pcusa.org/today.