Pittsburgh Theological Seminary has a long history of involvement in preparing men and women for world mission. One of the early professors of the Seminary, Elisha Pope Swift, was also the key leader in the founding of the Western Foreign Missionary Society in 1831 in Pittsburgh. Through the years, Pittsburgh Seminary has prepared many men and women who have gone out to serve in mission around the world. The Seminary has also prepared national leaders from overseas partner churches.
Recent changes sweeping the world and impacting the church have necessitated innovative structures to continue the mission of Jesus Christ. With this in mind, pastors, missionaries, and church leaders met with denominational officials, Seminary faculty, and administrators at Pittsburgh Theological Seminary in early 1996 to discuss, pray, and strategize about ways to support the work of local congregations in world mission. From these initial meetings, the World Mission Initiative WMI was born.
In April 1996 a group of Presbyterians came together at Pittsburgh Seminary to discuss theological and practical issues related to Presbyterian missions. The catalyst for the meeting was Dr. Glendora Paul, a mission advocate who had previously worked with Presbyterian Women in the Synod of the Trinity, who in 1995 became a mission volunteer at PTS. Retired missionaries, two former moderators, Seminary faculty and administration, mission pastors, representative from the Worldwide Ministries Division WMD of the Presbyterian Church, and others met to discuss what could be done to help provide leadership which would serve the local congregations and the Division. The response to this first meeting was very positive; in fact it was overwhelming. It was clear that shifting cultural and ecclesial trends necessitated new structures for mission in the denomination.
After this first meeting an advisory board was formed, leadership was chosen, and purposes were established: The World Mission Initiative is dedicated to developing mission vision, nurturing missionary vocations, and cultivating missional congregations. In short WMI is a regional body standing in the gap between the Seminary, Worldwide Ministries Division, and local congregations to build confidence and responsible mission involvement.
WMI Celebrates 20 Year Anniversary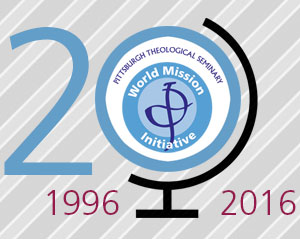 Over the past 20 years, WMI has hosted 10 biennial conferences, countless workshops and global mission guests, and sent more than 300 seminary students into faith-stretching and ministry-shaping global mission experiences.
World Mission Initiative celebrated this milestone year at our conference, Recalibrating the Church for the 21st Century, in 2016. The conference featured Alan Hirsch, a well-respected leader in the missional church conversation, and included 20 workshop topics and a rich opportunity to network with others involved in mission in our own neighborhoods and around the globe. We concluded the event with a celebration dinner, honoring the past and looking to the future of World Mission Initiative.
At the conference, we launched the "Send Me" Campaign, with a goal to raise $5,000 to support student mission travel scholarships in the month of April. WMI's supporters exceeded that goal, giving more than $6,000 to send students into God's global mission.
We give thanks for all that God has done through World Mission Initiative in the lives of seminary students, local congregations, and global partners around the world in these 20 years of ministry! We look forward to a stronger commitment to sending students in the future, as we strive to develop mission vision, nurture missionary vocations, and cultivate missional congregations.