by Hattie Taylor
It's as clear as the lack
of lines on my face
I am "still young."
Could I have chosen to become
A pastor at a later time
I would have.
But I did not choose without pause
At the age of 15
I pursued a call.
Different pulpits have been filled
For 12 years by me
I have grown.
When you tell me I am "a baby"
Or "inexperienced" with a smirk
I am hurt.
I did not choose this to make you uncomfortable.
I did not choose this to perpetually apologize for my age.
I did not choose this because nothing else appealed to me.
I am an individual in this career, because
I felt called by God.
I am more than my "young age."
Please do not reduce me.
"Enjoy it! Youth is not bad!"
But it's hard to enjoy
While others frequently acknowledge
that obvious observation to a woman with appropriate qualifications in a stable career.
While I sometimes feel patronized.
While I sometimes feel insufficient.
While I sometimes feel inexperienced.
Hear me out: I am aging, just like you.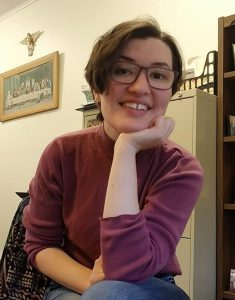 Hattie Taylor is a 2020 graduate of Pittsburgh Theological Seminary and the pastor of Hogansburg, Masenna: Grace, and Potsdam United Methodist Churches in the Upper New York Annual Conference.