If your prayer list has more than a few names on it, chances are that you are lifting up someone who suffers from depression. And if you do not know depression first hand, you may wonder how to pray with and for someone who does.
It is easy to think, "Well, I will just pray that the depression disappears. Maybe if enough people pray, our prayers will make it go away." So it is good to remind ourselves that prayer is not some magical power or magician's wand. If it were a magical power, we would use it to whisk away all our fears, calm every anxiety, and drive away all the inner demons of hopelessness and despair. But deep down, we know that prayer is not a magic trick that makes things disappear.
The Power of Prayer
Prayer is much more powerful than that. It does not make bad things go away. It brings God close, even when our lives are full of bad things, and helps make God visible in our lives—even when the clouds within hide God from our view.
Prayer is also powerful because it brings the one who prays—you, in this case—close to the one with and for whom you pray. It connects you at the deepest possible level. Even so, if you have never suffered from depression, you may have trouble truly understanding it. But do not let that be an obstacle to praying for a friend who is depressed. Through the extraordinary spiritual power of prayer, you enter empathetically into the heart and mind of one who suffers, thus feeling what it is like to be that person at the very core of your own being. To pray for another is to enter, insofar as it is humanly possible, into what it is like to be him or her. When you pray for someone, over time you begin to understand that person better.
Christ intercedes for us because he first became one of us. In Hebrews 4:15 we read: "For we do not have a high priest who is unable to sympathize with our weaknesses, but we have one who in every respect has been tested as we are, yet without sin." Knowing that Christ our Intercessor understands the full gamut of human experience from the inside, we can bring anything to God through Christ. And so the epistle continues in verse 16: "Let us therefore approach the throne of grace with boldness, so that we may receive mercy and find grace to help in time of need."
Praying About Depression
And so we approach and boldly speak to God about the depression that is so much a part of the life of our friend. How do we describe it? Usually we speak in metaphors. Depression is darkness, we say; not a darkness that surrounds us but one that is in us, thus darkening everything else from the inside out. It is not the calm darkness that evening brings, or the startling darkness of lights going out in a storm, but a deep and paralyzing darkness brooding within, a darkness without dawn, the kind that no external light can brighten.
We also speak of depression as dryness, or sometimes as emptiness within. "I feel immobilized, suspended in time while everyone else goes on with life," a friend explains. Others describe it as being lost in a mist, unable to move because they cannot see themselves entering safely into the next moment or the next day. And perhaps the most common metaphor is the simple but frightening word "down." It is as though the self cannot arise within and summon up its own energy. It is down, under water, under a weight that will not go away.
Finding Light in the Darkness
Never should we think that depression brings any sort of spiritual advantage—yet the defining truth of our faith is that God meets us at the extremes. If it is possible to be too rich to enter the kingdom, perhaps it is also possible to be too happy, if by happy we mean the silly optimism so many endorse today. Where is the thirst that makes us pant for God? Where is the emptiness that opens an aching space within—a space that only God can fill? When do we feel the immobility known by the one who waited a lifetime by the pool for angels to create healing ripples in the water, and so met Jesus? When is the darkness so dark that it becomes luminous, full of an awesome glory under the sign of its opposite? Those who suffer from depression know about these things.
One popular Taizé chant begins, "Within our darkest night, you kindle the fire that never dies away, that never dies away." Joining in the endless prayer of our risen Savior, pray patiently with and for those who know the darkest night.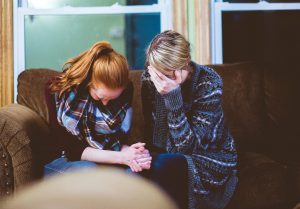 You might consider using the prayer below in walking alongside a person suffering from depression:
Holy God, who in Jesus Christ comes into our world to be the Light that no darkness can overcome, I pray now in this moment for my friend, __________ (name). You alone know the inner mysteries of our human minds, so often filled with negative thoughts and unrelenting anxiety. Through the healing power of our Savior, Jesus Christ, grant __________ (name) relief from depression and all despair. Give __________ (name) that peace that passes all understanding, through Christ I pray. Amen.
Helpful resources for further consultation:
Companions On The Inner Way: The Art of Spiritual Guidance, Morton T. Kelsey (Crossroad, 1995)
Dark Night of the Soul, St. John of the Cross (available from multiple publishers)
A Mood Apart: Depression, Mania, and Other Afflictions of the Self, Peter C. Whybrow (Basic Books, 2015)
The Noonday Demon: An Atlas of Depression, Andrew Solomon (Scribner, 2015)
Undoing Depression: What Therapy Doesn't Teach You and Medication Can't Give You, Richard O'Connor (Little, Brown and Company, 2010)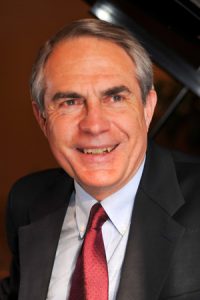 The Rev. Dr. Ron S. Cole-Turner is the H. Parker Sharp Professor Emeritus of Theology and Ethics at Pittsburgh Theological Seminary. 
A version of this essay originally appeared in Toward Bearing One Another's Burdens: Praying with Others through the Challenges of Life (ed. Connie Tappy, Pittsburgh Theological Seminary, 2019).
Are you or someone you know experiencing a mental health crisis? Contact:
The NAMI Help Line Mon.-Fri. 10 am–10 pm (ET) at 1-800-950-NAMI (6264)
The National Suicide Prevention Hotline at 1-800-273-8255 (avail. 24/7)
Text HOME to 741741 to connect with a crisis counselor (avail. 24/7)