The "Gospel" is Bigger than What Billy Graham Bellowed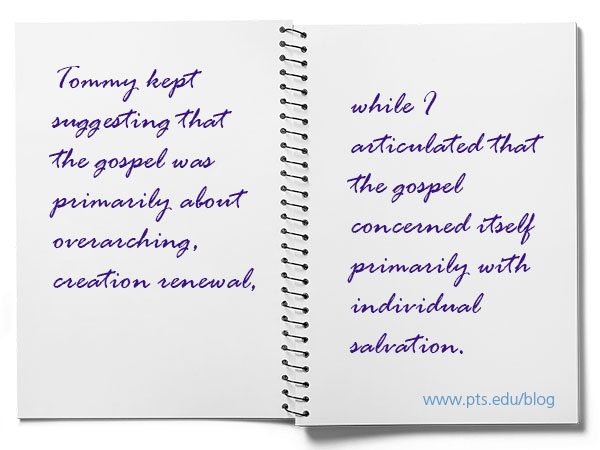 Recent Seminary graduate Brandon Shaw muses about how the Gospel story is one of social justice and evangelism. 
Let's call him "Tommy." Tommy and I sat in proximity to each other in Dr. Dan Treier's undergraduate, systematic theology course at Wheaton College (Ill.) during the fall of 2006. Tommy was arguably the course's most progressive theological student, while I was likely the most conservative and boldly evangelistic.
We often bantered back and forth. Tommy kept suggesting that the gospel was primarily about overarching, creation renewal, while I articulated that the gospel concerned itself primarily with individual salvation.
It never occurred to me that Tommy and I needed to morph our views together!
Fast forward almost 13 years. A recent ThM alumnus of Pittsburgh Seminary, I am currently pursuing doctoral studies in Illinois, along with a master's in strategic communication because I "heart" contemplating how to best package the gospel for a mass audience.
The Gospel Stands Taller
 While on a visit to Chicagoland in June 2019 for doctoral studies, I came to realize that the gospel stands taller than I assessed over these last 16 years as a Christian.[1]
Merely telling someone "The Four Spiritual Laws" or the five points of Calvinism with an evangelistic impetus that summons someone to faith in Christ for even the glory of the Triune God is not the entire gospel—but merely a part of the whole  good news message.
If we are to truly impact the world for Christ, we must pursue a more holistic gospel that emphasizes not merely soteriological tidbits coupled with a "Just As I Am," Billy-Graham-like, altar call. Instead, we need a gospel that tells the tale of a Jewish Christ as the consummating King in a world that needs his reign to overcome it via his Spirit and church for perfect renewal unto the fame of the Triune God.
The Gospel is More
The gospel is more than salvation pronouncements, such as the death and resurrection of Christ, and a summons to repent and believe in his person and work for the renown of God. Though it is all that, it is more, too.
The gospel is also a story about God restoring a fallen universe to glory through the nation of Israel, something Scot McKnight, of Northern Seminary, especially highlights, which ultimately culminates with Christ declaring that his kingdom is at hand (Mark 1:15). There is a cosmic-story component to the gospel that many neglect. The compelling and saving truths of Christ's perfect life, propitious death, resurrection, ascension, reigning, return, and his restoration of all things are crucial points to the gospel.
Israel's story is important as well because without Israel, we have no Messiah! McKnight suggests that many stop at merely proclaiming Christ's death, and some go on to preach his resurrection; however, few see the gospel as a narrative which begins with the creation-fall and traces itself through Israel and leads to Christ and him gloriously perfecting the cosmos to himself. And this has grand implications since we are called to participate in this redemptive tale. This is certainly good news.
Teammates of Jesus
 What's a takeaway from a more comprehensive gospel articulation? If I merely see the gospel as a $0.50 flyer that tells me how to get to heaven, I do not have a ton of motivation to pursue much beyond this. However, if I see the gospel (which includes the traditional aforementioned evangelical components) as narrative as well as how God is restoring the fallen world through Israel, Christ, and his Spirit-led church, then this excites me to get on board! It prompts me to pray and to seek Christ's kingdom through both word and deed. No-mere-bit-players, you and I are teammates of Jesus as we work in his Holy Spirit-empowered church to marry the whole creation to God in everlasting peace for the exaltation of God.
In sum, I think the gospel is bigger than what many have asserted. I do not deny justification by faith alone or penal substitutionary atonement or a call to repent and believe in Jesus for the glory of God. These traditional elements are essential to the gospel. There is no gospel without these truths. Personal salvation is necessary to have a church that partners with Christ in his cosmic creation renewal.
Still, I think the church as a whole does a great disservice at defining the gospel as only propositions followed by a plea to believe in Christ. Seeing and declaring the overarching story, too, and how we participate in this grand tale will undoubtedly change our puny perspectives by helping us comprehend that we are a part of the scheme of how Christ wins the world back from sin and eternal death for the everlasting praise of God. This is good news! This is the gospel!
[1] This past June, I took a course with Dr. David Fitch, a prolific Christian author and communicator. He suggested I read a fellow colleague's work. Northern Seminary's Scot McKnight's The King Jesus Gospel inspired me to write this brief piece. I give credit to both Fitch and McKnight for a lot of my newer thinking, though I do not quote them verbatim but seek to explain such gospel doctrine in my own lingo.
Brandon Shaw earned his master of sacred theology degree from Pittsburgh Theological Seminary in 2019. He's currently enrolled at Northern Seminary, where he's pursuing a Doctor of Ministry as well as master's in strategic communication.