Sharing a Birthday with Jesus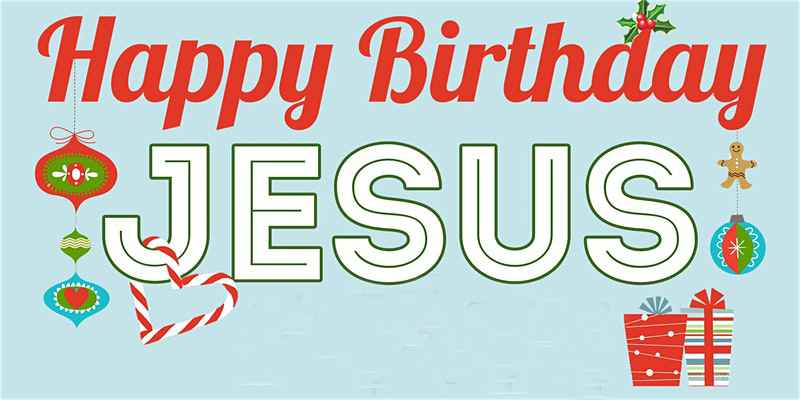 A campus landmark at Pittsburgh Theological Seminary is known as the "free table." Here, one can explore an ever-changing collection of  items searching for a new home – a package of unused file folders, a rice cooker that didn't quite make the move with a recent graduate, and, most commonly, a stack of books. As a Master of Divinity student here, this table was one of my favorite places because you never knew what you were going to get.
Christmas Is Not Your Birthday
Take one of my all-time greatest finds: Mike Slaughter's Christmas Is Not Your Birthday. Sandwiched between a stack of home decor magazines and a set of plastic bowls, it caught my attention and I decided to bring it back to my bookshelf – not as a challenge to the consumeristic ritual of the holidays but because of the book's ironic title. You see, Christmas actually is my birthday, and I could not pass up the novelty of owning a book that tries to tell me otherwise.
Christmas is, of course, as much about giving as it is receiving. However, Christmas has largely been about sharing for me. Since I was a child, Christmas has meant opening gifts alongside my siblings, giving gifts to other people, and, naturally, sharing the birthday limelight with this guy named Jesus. Over the years, I've shared my birthday as gracefully as I could, but ultimately it feels at times like I've been cheated of a the birthday experience that so many others have – a day that is all about me.
Sharing Birthdays with Jesus
In my three years as a student at Pittsburgh Theological Seminary, I didn't necessarily learn how to be better at this sharing with Jesus, in large part because the Seminary doesn't need to teach this. Seminary taught me instead that sharing my birthday with Jesus is about more than each of us blowing out candles on our respective cakes. Christmas, and my birthday, are a recognition of Jesus' humanity. Just as I was born into this world, so was Jesus. Just as I have grown and experienced the wide range of human emotion, stubbed my toe, gotten bad haircuts, and been at a loss for words (for better or for worse), so has Jesus. Not only have I participated in community and been privy to the realities of this beautiful, broken, lovely, and all too human word, so has Jesus.
In the chaos of Advent and Christmas, sharing a birthday with Jesus is a stark reminder that we all share, regardless of when your birthday may be, in the incarnate life that our God takes in Jesus Christ.
Christmas is my birthday, contrary to what any book title may say. But just as importantly it is an opportunity for all of us to remember that the God we love breaks into the cosmos in our likeness through Jesus Christ. God meets us in our particularity because, above all else, God wants to know us and be known by us. Thanks be to God for the gift of life, the gift of the incarnation, and the gift of each other, no matter the day of the year.
Chris Taylor, MDiv '19 and admissions counselor, first came to Seminary as a teen in the Miller Summer Youth Institute. After graduating from the University of North Carolina in 2015, Chris spent a summer in Acadia National Park and served as a youth director in Raleigh before moving back to his hometown of Pittsburgh to attend PTS. Chris has also been serving at Parkwood Presbyterian Church in Allison Park since 2017. You can often catch Chris watching Pittsburgh sports, Carolina basketball, reading a good book, or exploring the outdoors.