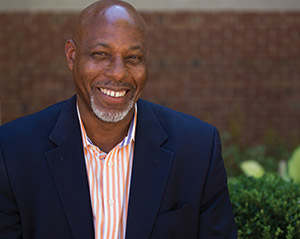 Vice President for Student Services and Dean of Students at Pittsburgh Seminary since 2006, the Rev. Dr. John Welch '02 wears many ministry hats both on and off campus. He continues to serve in a supporting role at Bidwell Street United Presbyterian Church as minister of music, where he was ordained and formerly served as pastor. He serves in a leadership role with Pennsylvania Interfaith Impact Network (PIIN), where he is president emeritus and also chairs the board of directors of the international network PIIN is a part of. He also volunteers as chief of chaplains for the Bureau of Police Chaplaincy Corps in the city of Pittsburgh, whose work offers support and counseling to police officers, relatives of victims of violence, and the greater community.
But the most recent hat John has donned is that of "doctor of philosophy." Having begun his program of study in 2005, John received his Ph.D. from Duquesne University last fall. "What first drew me to this field was the concern I've long had for the history of health and healthcare disparities between African-Americans, other persons of color, and the majority culture. As a student at Pittsburgh Seminary, I took a course from Dr. Ron Cole-Turner titled 'Science and the Soul.' It tickled my science and engineering background and helped me to find a landing pad in Duquesne's Healthcare Ethics program," John explains.
John notes further that the program took on a focus in global bioethics when Duquesne hired his advisor, Dr. Henk ten Have. A well-known scholar from the Netherlands in the field of global bioethics, and the former director of the Division of Ethics of Science and Technology with the United Nations Educational, Scientific and Cultural Organization (UNESCO), Dr. ten Have is also a medical doctor. On his advice, John refocused his original plan to do research on food justice by instead examining palliative care.
John has been using his expertise in this area in yet another professional role, namely, as an adjunct professor of business ethics in the University of Pittsburgh's MBA program, as well as for the Consortium Ethics Program. The latter, a project of the University of Pittsburgh, provides ethics consultation and training to healthcare institutions in Western Pennsylvania.
On the road to earning his Ph.D., John credits several Pittsburgh Seminary faculty, staff, and students with supporting him through prayer, encouragement, and practical help. Down the final stretch of completing his dissertation, he notes especially that "God sent an angel my way—one who knew what I would need when I was time crunched at the end. Alyson Pope [head of library technical services] is that angel."
"At minimum," John reflects, "I hope that my story encourages students to realize they can achieve the unimaginable through prayer and perseverance. With the responsibilities I maintain at Bidwell Presbyterian Church in support of the Rev. DeNiece Welch '04—their pastor and my wife!—my responsibilities at home, and my work in the wider community both locally and nationally, I was able to obtain my Ph.D. on the jet stream of God's grace!"