The City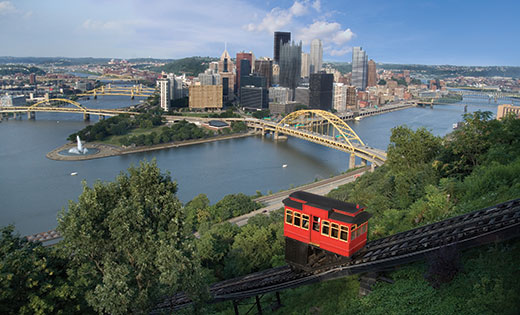 In addition to education, this region offers a quality of life not found in many places of its size. Urban renewal in the city has included a commitment to the arts and education. An internationally acclaimed symphony orchestra, along with resident opera, ballet, and theater companies, perform regularly in city theaters. Pittsburgh is also the home of several exceptional art collections and museums, including the Andy Warhol and Carnegie museums. Sports enthusiasts are delighted to cheer for the Pittsburgh Steelers (football), Pirates (baseball), and Penguins (hockey). The city is home to world-class health care, the leading employer in the region, and top-ranked institutions which provide a rich atmosphere for intellectual growth. The 'Burgh is bursting with activity.
All these factors make the region a stimulating place in which to live, study, and serve. The wealth of educational and employment options also make Pittsburgh a wonderful location for spouses and family members seeking opportunities close to the Seminary's campus.
The City of Pittsburgh is the scene of Western Pennsylvania's largest and most important educational complex. Pittsburgh Theological Seminary is associated through the Pittsburgh Council on Higher Education, which includes Chatham University, Carnegie Mellon University, University of Pittsburgh, Carlow University, Duquesne University, Robert Morris University, Point Park University, and Community College of Allegheny County. The cluster of educational institutions in Pittsburgh provides an atmosphere of intellectual growth.

Learn more about Pittsburgh and the many things to do and see in the city. Also, check out Pittsburgh Magazine.
Pittsburgh Facts
Founded: 1758
City Population: 305,704
Allegheny County Population: 1,223,348
Area: 55.5 Square Miles
Elevation: 1,223 Feet
Location: Pittsburgh is within 500 miles of more than half of the U.S. population, and the city is less than 90 minutes flying time from 20 states and Canada.
Average High Temperature (July): 82.5 °F
Average Low Temperature (January): 20.8 °F
Port: Pittsburgh is the nation's largest inland port, providing access to the extensive 9,000 mile U.S. inland waterway system.
Bridges: Allegheny County has more than 1,700 bridges, 720 within city limits, and 15 major bridges crossing downtown Pittsburgh alone.