World Mission Initiative of Pittsburgh Theological Seminary is dedicated to developing mission vision, nurturing missionary vocations, and cultivating missional congregations by equipping mission leaders to engage faithfully and effectively in God's intercultural mission. WMI offers opportunities and resources to serve congregations and students. WMI is part of the PTS Neighborhood Collaborative.
Graduate Certificate in Missional Leadership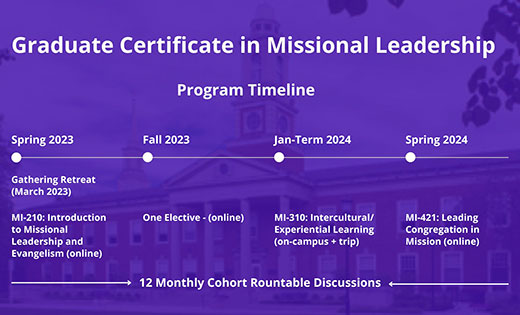 We are excited to report that seven mission leaders from all over the country are part our first cohort which launched in January 2023. This is a 16-month/four course hybrid program. Students will receive broad preparation in mission theology, intercultural communication, conflict resolution, and short-term mission trip leadership, and are therefore equipped for leadership in both global and local contexts. The program began with an online course—"Introduction to Missional Leadership and Evangelism"—and an in-person Gathering Retreat on the Seminary campus March 16-18. Learn more about the certificate program.
Opportunities for Mission Leader Formation
For Everyone
For Current PTS Students
Tools to Lead Your Congregation in Mission
7 practical tools for congregational mission leaders
Connect With Us
Please read our latest newsletter
E-mail us
Call us at 412-924-1449
Support WMI
We appreciate your continued support through prayers and donations. Without you we would not be able to equip mission leaders for God's world. Donate here.