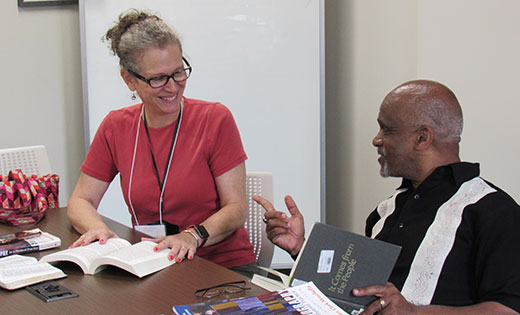 Renew your calling to pastoral leadership through Pittsburgh Theological Seminary's Doctor of Ministry (D.Min.) degree program. The Doctor of Ministry is a professional doctoral degree providing space for renewal, growth, companionship among peers, and rich dialogue with faculty.
The program follows a cohort model focused on specific themes of Christian spiritual formation or church leadership, facilitating peer relationships and shared leadership throughout the D.Min. journey. These focus areas allow the program to bring study and learning to bear on the student's particular ministry context. Twice a year, doctoral students come to our campus in Pittsburgh, Pennsylvania, to connect in person with their cohort and study together.
Deepen the Meaning of Your Congregational Context
Students pursuing the D.Min. degree develop a habit of reading and study, conversation and reflection, and writing and rewriting that provides a pattern of deep theological engagement and invites renewed imagination for specialized ministry work. In this way, the Doctor of Ministry program allows you to step out of your congregational context to sift through new information and ideas, then step back in to discover how and why that learning matters.
The D.Min. degree program encourages you to engage the challenges, opportunities, and vocation of ministry through a systemic and sustained cubiculum involving disciplined study and reflection.
Why pursue a D.Min. degree?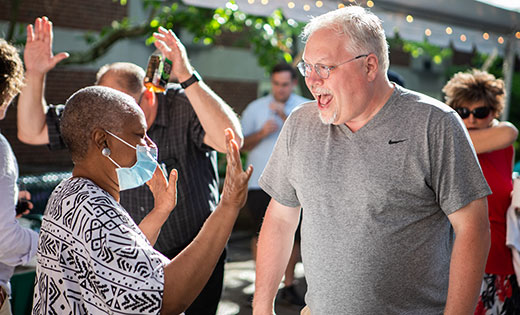 Is the work of ministry raising questions you never thought to ask in seminary?
Are you craving a deep learning community where you can develop practices that better equip you to serve God's people?
Is there a revelation written on your heart that you need help from a community of care and learning to birth into reality?
Our Doctor of Ministry Program explores these deep questions as it fosters pastoral renewal, provides supportive community of fellow clergy, and offers the space to delve into an aspect of Christian theology and mission. The doctor degree is grounded in pastoral ministry concerns and pastoral leadership development, unlike a Ph.D. which is more focused on teaching and research.
D.Min. Curriculum
The Doctor of Ministry degree program combines independent study alongside concentrated periods where students gather together on campus. Students enroll in cohorts centered on focus areas, allowing for deeper specialized study that follows their calling.
Classes generally meet in two-week blocks twice per year for 2.5 years. At the end of students' doctor coursework, they design and implement a project that engages their ministry context in conversation with our their academic studies. This emphasis on combining academic study and the practice of ministry is carried out through interactive teaching-learning styles in seminary courses.
The doctoral project at the culmination of the program's coursework is undertaken under the supervision of carefully selected faculty and provides an opportunity for candidates to explore in-depth an aspect of their ministry to which they seek to bring new light, knowledge, and imagination.
The D.Min. degree program is 36 credits and is to completed in three to four years. Explore Frequently Asked Questions about the Doctor of Ministry Program for more information.