Is the work of ministry raising questions you never thought to ask in seminary?

Are you craving a deep learning community where you can develop practices that better equip you to serve God's people?

Is there a revelation written on your heart that you need help from a community of care and learning to birth into reality?
Pittsburgh Seminary's DMin program does rolling admissions, and cohorts fill up quickly. We encourage you to apply soon to join one of our DMin adventures!
Cohorts in Progress
Past Cohorts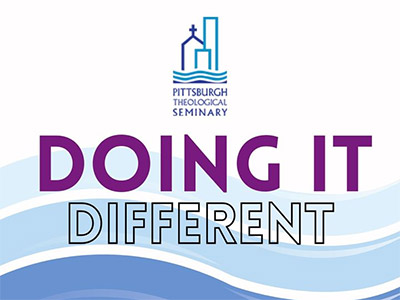 Doing it Different DMin Podcast
Welcome to Doing it Different, a limited podcast partnership with Porshanality Media and Pittsburgh Theological Seminary. This podcast explores the Seminary's cutting-edge Doctor of Ministry degree and its various focus areas. Together we will explore conversations with faculty, staff, and students alike. Cheers to Doing It Different.
Listen through Google, Spotify, or Apple.
Episode 1—The relationship between womanism and the new Creative Writing and Public Theology Doctor of Ministry Focus at Pittsburgh Seminary is explored in a conversation with Porsha Williams Gates and Shan Overton, hosted by Shannon Garrett-Headen.
Episode 2—Porsha Williams Gates explores the Doctor of Ministry program at Pittsburgh Theological Seminary in a discussion with Ramona Spencer, PTS DMin program coordinator, and Denise Thorpe, PTS DMin interim director.
Episode 3—The new Intergenerational Black Church Studies Doctor of Ministry Focus, including its origins, hopes, and dreams, is the subject of this discussion between Drew Smith, faculty mentor, and Porsha Williams Gates.
Join us for a future cohort:
Eastern Christian Focus

August 2021 Start Date
Application/Financial Aid Deadline - July 1, 2021

Creative Writing and Public Theology

June 2021 Start Date
No longer accepting applications

Intergenerational Black Church Studies

September 2021 Start Date
Application/Financial Aid Deadline - Aug.15, 2021

Reformed Focus

June 2021 Start Date
Application/Financial Aid Deadline - April 15, 2021