The Doctor of Ministry at Pittsburgh Seminary
The purpose of the Doctor of Ministry Degree Program at Pittsburgh Theological Seminary is to engage the challenges, opportunities, and vocation of ministry through a systematic and sustained curriculum involving disciplined study and reflection in a cohort model that facilitates peer relationships and shared learning throughout the D.Min. journey. The Doctor of Ministry is a professional doctoral degree providing space for renewal, growth, companionship among peers, and rich dialogue with faculty.
Students undertaking the degree are to develop a habit of reading and study, conversation and reflection, writing and rewriting that provides a pattern of deep theological engagement and invites renewed imagination for work in the student's ministry setting. The D.Min. program allows you to step out of your ministry context to sift through new information and ideas, then step back in to discover how and why that learning matters.
D.Min. Classes and Project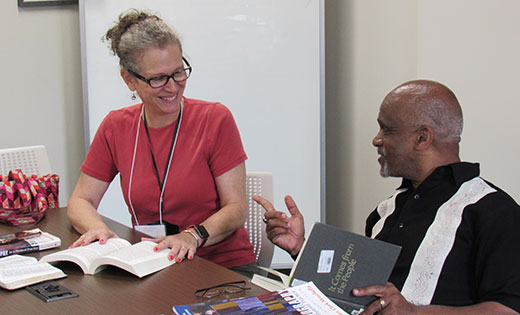 Classes generally meet in two-week blocks twice per year for 2.5 years. At the end of your course work, you will design and implement a project that engages your ministry context in conversation with your work in the classroom.
This emphasis on combining academic study and the practice of ministry is carried out through interactive teaching-learning styles in seminars and courses. The doctoral project at the end of coursework is undertaken under the supervision of carefully selected faculty and provides an opportunity for candidates to explore in-depth an aspect of their ministry to which they seek to bring new insight, knowledge, and imagination.
This D.Min. program is 36 credits and is to be completed in three to four years. Learn more about the Seminary's Doctor of Ministry Student Learning Outcomes.