About the Metro-Urban Institute
Founded in 1991, the Metro-Urban Institute combines the theory and practice of collaborative community ministry into a program of urban theological education that prepares students for excellence in any context of ministry, but with particular attention to public realities affecting the urban environment.
Interested in expanding your knowledge of serving in an urban context? Explore our Graduate Certificate in Urban Ministry, a flexible year-long program allowing community members and seminarians to explore their Christian vocation in urban settings. Not looking for a formal education but want to better serve your neighbors? Check out our upcoming events, which include workshops, lectures, conferences, and special events focusing on serving God's cities.
MUI is part of the PTS Neighborhood Collaborative.
MUI News
Dr. Smith, Henry L. Hillman Professor of Urban Ministry, is leading/co-leading two grants from the Henry Luce Foundation to study the impact of COVID-19's impact on black and latinx communities in metro-Pittsburgh and to create a multidimensional project on gentrification, race, and theological education.
Mission Statement and Purpose
Since 1991, the Metro-Urban Institute at Pittsburgh Theological Seminary has served faith communities by balancing scholarship and grassroots practices to inform, resource, and link religious partners in the work of healthy justice-centered community formation and flourishing in urban contexts.
Historically MUI has served as a trusted partner in the Pittsburgh community, especially around issues of race, health, and other justice concerns. Building on this historic legacy, today we continue working to equip people (with or without master's degrees – utilizing our Graduate Certificate in Urban Ministry program) for ministries familiar and yet to unfold.
As a part of our goal of equipping ministries and faith-based organizations, we offer workshops, seminars, symposiums, and conferences that benefit our MUI/GCUM students along with others from the PTS community and broader society. Where possible, we partner with other departments within the Seminary (e.g., our two-part Grants workshop, biennial MUI conference, etc.) to expand impact and reach.
Values and Priorities
With core values of mutuality, justice, service, hospitality, and diversity, MUI offers academically sound and contextually rich conferences and symposiums to equip and empower churches and faith-based organizations to challenge injustices and meet the critical needs of urban communities.
We focus on delivering relevant programming, actionable research, and empowering engagement through our contextual learning and ministry experiences which focus on: Jesus and Justice; Faith and Freedom; Hope and Health; and Arts and Activism.
Connect with MUI
Newsletter
Read our latest newsletter here.
Sign up to receive our e-newsletter. Enter your contact info and select "MUI News."
Social Media
TO WHOM ARE WE NEIGHBOR? CHURCHES AND COMMUNITIES ENGAGING IN ANTI-RACISM WORK ACROSS GENERATIONS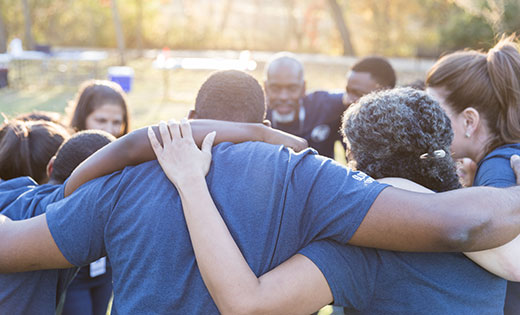 Kelso Lecture and Community Conversation on Race and Faith
March 17-18, 2023
Fri., March 17, 2023, Kelso Lecture
7:00 p.m. ET
The Rev. Dr. Starsky Wilson, President and CEO, Children's Defense Fund and CDF Action Council
In-person and Online
Free
Sat., March 18, 2023, Metro-Urban Institute Conference and Closing Service
8:30 a.m.-2:00 p.m. ET
In-person
$25
Join us for two days exploring how churches and communities can work together to facilitate anti-racism in their neighborhoods. Our conversation kicks off Friday with the Kelso Lecture, delivered by the Rev. Dr. Starsky Wilson. Metro-Urban Institute's conference filled with workshops, a panel discussion, worship, a community lunch, and resource fair follows on Saturday. All are welcome!
This event is co-sponsored by the Seminary's Office of Continuing Education and Metro-Urban Institute.