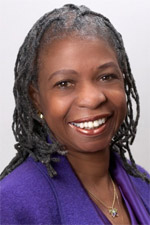 Honor the legacy of Martin Luther King Jr. at the 2014 Kelso Lecture Sun., Jan. 19 at 3:30 p.m. at Eastminster Presbyterian Church, 250 N. Highland Ave. Social justice and policy advocate, educator, and activist Dr. Iva E. Carruthers will present "Radical Revolution: Ready or Not!" The lecture will focus on King's quote:
"The church must be reminded that it is not the master or the servant of the state, but rather the conscience of the state. It must be the guide and the critic, and never its tool. If the church does not recapture its prophetic zeal, it will become an irrelevant social club without moral or spiritual authority."
Carruthers is the general secretary of the Samuel DeWitt Proctor Conference, a national interdenominational organization within the African American faith tradition focused on social justice issues. Before serving with the SDPC, Carruthers was the director of the Black Theology Project. She has a long history of engagement in community development initiatives and social justice ministry, fostering interdenominational and interfaith dialogue in the United States, Caribbean, South America, and Africa. Carruthers is professor emeritus and former chairperson of the sociology department at Northeastern Illinois University and was founding president of Nexus Unlimited, an information and educational technology firm. Dr. Carruthers has authored and edited a number of articles and publications in the areas of sociology, African American history, and theology. She was a delegate to the 2001 UN World Conference Against Racism, Racial Discrimination, Xenophobia and Related Intolerance.

The Kelso Lectures are presented by Pittsburgh Theological Seminary, Eastminster Presbyterian Church, East End Cooperative Ministries, and Northway Christian Community. The event is free and open to the public.