Daniel M. Corll '80/'01
Pastoral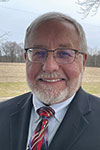 The Rev. Dr. Daniel Corll's entire career has been devoted to pastoral ministry—before ordination and in retirement. Dan is a graduate of Westminster College (B.A.) and Pittsburgh Theological Seminary (M.Div. and D.Min.). He was ordained a PC(USA) Minister of Word and Sacrament in 1980 and retired in 2019. During his years in active ministry, Dan served churches in Pennsylvania and Ohio including Mt. Pleasant United Presbyterian Church of Marshall Township, Wexford, Pa. for 27 years (now pastor emeritus).In his retirement, Dan serves as part-time visitation pastor at First Presbyterian Church, Meadville, Pa. Beyond this work, Dan has served a number of presbytery roles, been the chaplain for his local volunteer fire department and senior care facility, and was a member of the Seminary's Alumnae/i Council (2000-2008, president, vice president, and Alumnae/i Days chair).
Michael C. T. Ludwig '09
Mission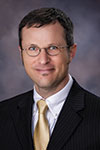 The Rev. Michael Ludwig is associate pastor at Memorial Presbyterian Church in Midland, Mich., where he has served since 2022. From 2014-2021, Michael and his wife, Rachel, served as mission co-workers in Niger, West Africa, with the PC(USA). In Niger, Michael was a trainer in the community health evangelism technique to help pastors empower their communities through self-development. Learning from the local church and responding to their shared concerns was formative in the strong partnership that the Ludwigs helped develop between the Evangelical Church in Niger (EERN) and U.S. Presbyterians. Michael continues to strengthen these connections as the Lake Huron Presbytery's special mission liaison with the EERN. Michael received an M.Div. from PTS in 2009 and the Valentour Travel Scholarship in 2007, using it to study theological education in seven countries in Africa and Asia.
Nichelle Nelson '05
Specialized Ministry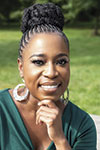 The Rev. Dr. Nichelle Nelson graduated in 2005 with a joint M.Div./M.S.W. from PTS and the University of Pittsburgh. She has a B.A. in psychology from the University of Delaware, and a D.Min. from Drew University. Nichelle has worked as a fundraiser and development officer, and for over a decade has been the chief programming officer for the Fund for Advancement of Minorities Through Education (FAME), where she works to close the education gap in Pittsburgh and help FAME scholars realize their full potential. She is also the interim chief executive officer of FAME. Additionally, for 14 years she has served as a field instructor for the University of Pittsburgh School of Social Work. The receiptient of several awards, Nichelle is an ordained minister at Mount Ararat Baptist Church in Pittsburgh, a public speaker, and a teacher for churches, theological schools, and colleges.
Ralph B. Watkins II '93
Academia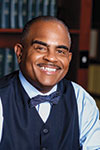 The Rev. Dr. Ralph Watkins is the Peachtree Professor of Evangelism and Church Growth at Columbia Theological Seminary. As a scholar, professional photographer, documentarian, pastor, speaker, and workshop leader, his work focuses on building bridges between young adults and the church to develop future leaders who work for justice. Ralph has a Ph.D. in sociology from the University of Pittsburgh, a D.Min. in African American Church Studies from PTS, and degrees in photography, religion, and political science. Ralph worked for a year at PTS as the assistant director for Black Church Studies. He has written more than 250 publications and conference presentations, including several books. He is also a television producer and nationally recognized jazz musician. Thanks to various fellowships, awards, and grants, he has studied the African roots of African American theology in Kenya, Tanzania, Egypt, Ethiopia, Senegal, and Ghana.
Joanne E. Spence '18
The Fred McFeely Rogers Award for Creative Ministry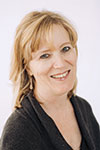 Joanne Spence is a certified yoga therapist who has taught mindfulness and yoga for 20 years. Her work is trauma-informed and trauma-sensitive, and her specialties are adults and children with trauma, chronic pain, insomnia, depression, and anxiety. She also has a background in clinical social work, and worked for 10 years as the first yoga instructor at Western Psychiatric Institute and Clinic in Pittsburgh. She teaches yoga in prisons, hospitals, schools, churches, and sometimes on street corners. In 2005, Joanne founded the nonprofit Yoga in Schools (YIS) as a way to help school children and teachers nurture their own wellbeing through yoga. In 2018, Joanne earned her M.A. from PTS, and is currently a student in the D.Min. in Creative Writing and Public Theology Cohort. She is the author of Trauma-Informed Yoga: A Toolbox for Therapists and is a spiritual director trained in Ignatian spirituality.