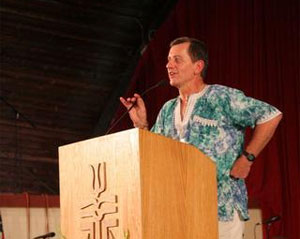 Recently members of the PTS community participated in the annual New Wilmington Mission Conference. The week-long conference included Bible studies, events to promote spiritual enrichment, lectures, and fellowship, along with service opportunities. The purpose of the conference is to strengthen Christians in their commitment to mission work. Missionaries and leaders from the global church shared their mission experiences and challenged participants to join in the mission calling.
Event speakers included the Rev. Dr. Donald Dawson, director of the NWMC and World Mission Initiative, the Rev. Dr. Rob Weingartner '82, executive director of The Outreach Foundation and former Distinguished Alumnus of the Seminary, the Rev. B.J. Woodworth '07, pastor of The Open Door, and the Rev. Dr. Jannie Swart, associate professor of mission and evangelism.
NWMC began as a Presbyterian mission conference for young people in 1906. About 800 delegates and staff from 30 states and 25 countries attended this year's conference. Another 300 regional residents also attended some portion of the conference.
The Seminary is blessed to continue our involvement in mission work here and around the world.