Between the Altar and the World: Interpreting Life Liturgically
Henderson Summer Leadership Conference
Date
Sun., June 2 - Wed., June 5, 2019
Keynote Presenter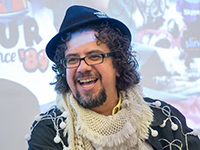 A native Brazilian, Cláudio Carvalhaes is a theologian, liturgist, and artist who also serves as associate professor of worship at Union Theological Seminary in New York City. He completed his Ph.D. in liturgy and theology at Union Theological Seminary. He earned a master of philosophy in theology, philosophy, and history at the Methodist University of Sao Paulo and a master of divinity from the Independent Presbyterian Theological Seminary (Sao Paulo, Brazil). Prior to joining the faculty at Union, Dr. Carvalhaes taught at McCormick Theological Seminary, Lutheran Theological Seminary in Philadelphia, and Louisville Presbyterian Theological Seminary. Carvalhaes is an ordained teaching elder in the Presbyterian Church (U.S.A.).
Dr. Carvalhaes has preached at numerous event, including Wild Goose Festival, Festival of Homiletics, Forum for Theological Education, Child Defense Fund – Proctor Institute for Child Advocacy Ministry, Academy of Homiletics, and many other places. Recently he has been working on a global project called Re-Imagining Worship As Acts Of Defiance and Alternatives In The Context of Empire. With a grant from the Council of World Mission, he is leading a workshop on liturgy amidst the poor with scholars, pastors, and students in four continents: Asia, Africa, Americas, and Europe.
Dr. Carvalhaes has published several books, the most recent of which is What Has Worship Got To Do With It? Interpreting Life, Church and the World Liturgically (Cascade Books, 2018). He also authored a book to be published in 2019, "Preaching and Liberation Theology: Metaphors for Our Time" (Abingdon Press).
Overview
During this year's conference, we will:
discover how liturgy comes to life beyond the altar;
gather for worship, plenary sessions, and lectures; and
meet in workshops to investigate the variety of ways liturgy can be offered and embraced by diverse groups.
Come prepared for a rich engagement of your senses and soul as we join together!
The first 30 registrants will receive a free copy of Dr. Carvalhaes' book, What Has Worship Got To Do With It? Interpreting Life, Church and the World Liturgically.
Schedule and Registration

A general outline of the conference program is available.
Workshop topics:
The church and the neighborhood
Cross-cultural ministry and liturgy
Disability and liturgy
Preaching that matters
Worship and creation
Worship and ministry in small and rural churches
Youth, children, and worship
Henderson Lecture on Church and Ministry: On Monday evening, June 3, 2019 at 7:00 p.m., Claudio Carvalhaes will present the Henderson Lecture. The lecture is free and open to the public. An ASL interpreter will be present. Copies of Dr. Carvalhaes' book, What Has Worship Got To Do With It? Interpreting Life, Church and the World Liturgically, will be available for purchase.
Fees
Full conference registration fee and meals:$250. One-day registration fee including meals: $95 / Lodging is not included in the conference registration fee.
Church/ministry groups who register three people to attend the full conference will receive the fourth registrant for free. Please e-mail ConEd@pts.edu so the CE Office can register your group.
Directions / Lodging / CEUs
Directions to the Seminary. Free parking is available on the campus of the Seminary behind the chapel and there will be directional signs to indicate where events are being held. Campus map.
Lodging On-campus housing is limited. To make reservations for a room in Calian Hall, call 412-924-1397 or e-mail reception@pts.edu. Details about other housing options in the area can be requested. The Hotel Indigo East Liberty provides a discount for PTS guests.
CEUs will be available for clergy upon request. Conference registration is required.
Notice of Photography and Filming When you enter a Pittsburgh Theological Seminary event or program, you enter an area where photography, audio, and video recording may occur.
Questions
Questions about the event can be directed to the Continuing Education at ConEd@pts.edu or 412-924-1345.