Presenters
Keynote Presenter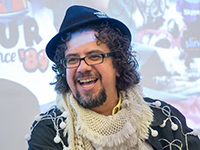 A native Brazilian, Cláudio Carvalhaes is a theologian, liturgist, and artist who also serves as associate professor of worship at Union Theological Seminary in New York City. He completed his Ph.D. in liturgy and theology at Union Theological Seminary. He earned a master of philosophy in theology, philosophy, and history at the Methodist University of Sao Paulo and a master of divinity from the Independent Presbyterian Theological Seminary (Sao Paulo, Brazil). Prior to joining the faculty at Union, Carvalhaes taught at McCormick Theological Seminary, Lutheran Theological Seminary in Philadelphia, and Louisville Presbyterian Theological Seminary. Carvalhaes is an ordained teaching elder in the Presbyterian Church (U.S.A.).
Carvalhaes has preached at numerous event, including Wild Goose Festival, Festival of Homiletics, Forum for Theological Education, Child Defense Fund – Proctor Institute for Child Advocacy Ministry, Academy of Homiletics, and many other places. Recently he has been working on a global project called Re-Imagining Worship as Acts of Defiance and Alternatives in the Context of Empire. With a grant from the Council of World Mission, he is leading a workshop on liturgy amidst the poor with scholars, pastors, and students in four continents: Asia, Africa, Americas, and Europe.
Dr. Carvalhaes has published several books, the most recent of which is What Has Worship Got To Do With It? Interpreting Life, Church and the World Liturgically (Cascade Books, 2018). He also authored a book to be published in 2019, Preaching and Liberation Theology: Metaphors for Our Time (Abingdon Press).
Plenary Presenter
Bethany McKinney Fox finds joy and calling through celebrating and uplifting the gifts of people of all abilities—and especially people with intellectual and developmental disabilities—not only the gifts they have but the gifts they are (just as we all are gifts to one another). As such she is active in various roles in the Los Angeles community. She is founding pastor of the Beloved Everybody Church and director of spiritual formation at Cyclical LA for church starters and discerning church starters. She also is director of student success and access services and an adjunct professor of Christian ethics at Fuller Seminary. Her new book, Disability and the Way of Jesus: Holistic Healing in the Gospels and the Church (IVP Academic), will be available in May 2019. Fox earned her Ph.D. in Christian ethics from Fuller Theological Seminary, an M.Div. from Columbia Theological Seminary, and B.A. in philosophy from UCLA (with a minor in Russian literature).
Panel Discussion Member
As the Director of Digital Ministry for Membership Vision, Lisa Brown works with faith-based organizations to map their ministries onto a digital landscape. An engaging and dynamic workshop leader, she is passionate about creatively enriching spiritual lives through digital storytelling, experiential learning, and collaborative art. She contributed to John Roberto's book Faith Formation with a New Generation and her book, The Best VBS Workbook Ever! was released in 2017. A writer for Building Faith and InsideOut camp curriculum, and an active member of Forma, she thrives on supporting others in their ministries. She continues to grow in personal faith through Education for Ministry (EfM) and holds a certification in Leadership in Faith Formation from Virginia Theological Seminary. Lisa is also on the General Convention of The Episcopal Church's Task Force for the Formation and Ministry of the Baptized.
Workshop and Enrichment Session Leaders
Erin Angeli, a 2018 graduate of Pittsburgh Theological Seminary, serves as the pastoral resident of the new faith community, The Commonwealth, located on the campus of the University of Pittsburgh in Pittsburgh, Pa.
Lisa Brown will be leading a workshop as well as participating on a Panel Discussion during the conference. See details about Brown above.
Jonathan Callard is a writer, editor, and teacher in Pittsburgh, Pa. He primarily works in nonfiction, focusing on essay and memoir. His work "with words arises out of the belief that each of us is blessed with a unique set of voices that define who we are," Callard's writing has appeared in Creative Nonfiction, PublicSource, Pittsburgh Magazine, and The Witness, among others, and he has received fellowships from the Brush Creek Foundation for the Arts, the Virginia Center for the Creative Arts, and the Ragdale Foundation. He teaches for Creative Nonfiction magazine and the University of Pittsburgh, where he received an MFA in writing.
Donna Giver Johnston is an ordained Minister of Word and Sacrament in the Presbyterian Church (U.S.A.). She has served churches in Ohio and New Jersey and currently serves as the pastor/head of staff of Community Presbyterian Church of Ben Avon in Pittsburgh. Giver Johnston earned an M.Div. from Princeton Seminary, where she received a preaching award. She earned a Ph.D. in homiletics and liturgics from Vanderbilt University and is a member of the Academy of Homiletics.
Mike Holohan, a 2010 graduate of Pittsburgh Theological Seminary, is the organizing pastor The Commonwealth of Oakland, a new, welcoming, and affirming community of faith in the city of Pittsburgh. Pittsburgh Presbytery sponsors Commonwealth and the Hot Metal Bridge Faith Community supports it. Commonwealth meets in space provided by the Community of Reconciliation.
Lori Liller Arnold is the coordinator for Continuing Education at PTS. She has served in this role since 2011. Prior to her work at the Seminary, Lori was center administrator for a research program at Western Psychiatric Institute and Clinic at UPMC. Arnold recently completed the 39th Academy for Spiritual Formation certificate program sponsored by Upper Room Ministries; she is an ordained deacon in the PC(USA).
Kendra Buckwalter Smith serves as the director of worship at PTS after earning her master's of divinity and master's of sacred theology from the Seminary. Music has always been a significant part of life for Smith. Born into a family of musicians, she explains, "It's how I communicate and how I experience life. When it comes to ministry, I think that music has the power to deepen compassion for others, to heighten praise and adoration of the Triune God, and to humble us in the face of beauty and creativity."
Joanne Spence focused on spiritual formation, pastoral care, and forming her own theology of the body during her M.A. work at PTS. Since graduation in 2018, Spence has returned to her work as a certified yoga therapist, both at her new yoga studio (Urban Oasis Pittsburgh) and in schools and hospitals—including at Pittsburgh's VA, where she teaches therapeutic chair yoga to veterans seeking inpatient behavioral health treatment. Specializing in the use of breathing exercises and gentle movement, Spence employs yoga to address people's symptoms of depression and anxiety.
Linda Theophilus was trained by Lutheran Immigration and Refugee Service in 1998 to tell the story of refugees, asylum seekers, and vulnerable immigrants. Since then she has worked in her synod and in local coalitions to educate church leaders, to advocate on behalf of immigrants, and to respond to unmet needs. She is a member of Detention Watch Network, a national network of people and organizations concerned about immigration detention and deportation and has experience visiting immigrants in immigration detention in county jails and private-for-profit prisons. Linda received her MDiv from Luther Seminary, St. Paul, Minn. in 1983. As the pastor of Emmanuel Lutheran Church of Eastmont in the Penn Hills suburb of Pittsburgh since 1985, she has focused on educating her congregation about this work. She is the coordinator for her congregation's Welcoming Immigrants Housing Project.
Leeann Younger is the lead pastor of Cityview Church in Pittsburgh, an Evangelical Church congregation she co-founded in 2010 with her husband, Wayne. Leeann's pastoral work and writing explores the intersections of faith, justice, and community activism. She loves asking the big questions and you can find her blogs about ministry and life at https://www.missioalliance.org/writing-collectives/ , https://theoloqui.net/ and leeannshawyounger.com
Lectures, Plenaries, Workshops, and Enrichment Sessions
Henderson Lecture on Church and Ministry
On Mon., June 3, 2019, at 7:00 p.m., Cláudio Carvalhaes will lecture on the topic of Liturgies of the Neighbor. Mr. Rogers famously sang, "It's a beautiful day in the neighborhood / Won't you be my neighbor?" How should our liturgies express our understanding of neighbor and neighborhood? How can our liturgies serve to heal our neighbors and neighborhoods?
The lecture is free and all are welcome. An ASL interpreter will be present. Copies of Carvalhaes' book, What Has Worship Got To Do With It? Interpreting Life, Church and the World Liturgically, will be available for purchase.
Plenary Sessions
Liturgies of the World with Cláudio Carvalhaes
The poet Paul Celan says, "the world is gone, I must carry you." What does the world uniquely demand—and need—from those of us who are Christian? How can our prayers, songs, liturgies, and spiritual practices offer something vital to the world today?
Disability and the Way of Jesus with Bethany McKinney Fox
The Gospels are filled with accounts of Jesus offering physical healing. But even as churches and leaders today seek to follow the way of Jesus, people with disabilities all too often experience the very opposite of healing and life-giving community: exclusion, judgment, barriers. Misinterpretation and misapplication of biblical healing narratives can do (and have done) great damage. In this session we will explore how the stories of Jesus' healings can guide us and undergird church practices of mutual thriving and some ideas for how this might look in diverse church contexts. An ASL interpreter will be present.
Liturgies of the Church with Cláudio Carvalhaes
The poet says, "sing your village and you will sing the universe." How can our churches be places where the realities of the world can be brought into the sanctuary to be named and transformed? How can our church communities and practices shine a light to the world from where we sing, pray, eat, and give ourselves to God?
Monday Workshops
Entertaining Angels Unaware with Linda Theophilus, Pastor, Emmanuel Lutheran Church, Penn Hills, Pa.
In the Hebrew Bible, God tells the Israelites 36 times to "be kind to strangers, because you were once strangers in a strange land." It is the most frequently repeated commandment. But what does welcome to the stranger mean in the current political and social climate? Learn how church leaders can explore living into this directive in response to immigrants, refugees, and the newest of our neighbors.
Preaching Matters with Donna Giver Johnston, Pastor, Community Presbyterian Church, Ben Avon, Pa.
In this workshop, we will explore the dynamic connection between preaching and worship and learn how to preach sermons that connect table, font, and pulpit. We will also practice ways to preach sermons that are pastorally sensitive, prophetically challenging, and particularly relevant to the world outside the church walls.
Practicing Presence, Partnership, and Poetry with Mike Holohan, Organizing Pastor, and Erin Angeli, Pastoral Resident, The Commonwealth of Oakland, Pittsburgh, Pa.
The Commonwealth of Oakland is a new worshiping community trying to figure out what it means to gather church from the university, the neighborhood, and the street. Church planters Mike Holohan and Erin Angeli will share some best practices, missional thinking, acquired wisdom, and even hard truths that have served them well in their first year. Explore together how practicing presence, partnership, and poetry can build Christian community in any context.
Real Relationships, Virtual Space with Lisa Brown, Director of Digital Ministry, Membership Vision, Ventura, Calif.
In this workshop, Lisa will help participants shift from an informational to a relational understanding of the digital space. She will explore the ways in which technology impacts the lens through which we see and engage the world, focusing particularly on digital storytelling. Offering both a contextual overview and specific examples of digital ministry, Lisa will assist participants to better understand how to enrich, extend and enhance their own ministries in a digitally-impacted world.
You Are What You Practice: Breaking Free from "Slaveholder Religion" with Leeann Younger, Pastor, Cityview Church, Pittsburgh, Pa.
When we talk about racism, most of us think about overt and ugly acts. But what if the seeds of racism in our country have born fruit in our habits as worshipers? Is it possible that our practices actually keep us trapped in a worldview based on the lie of white supremacy? How would we know? Workshop participants will engage in a courageous conversations designed to awaken ourselves and our congregations to the insidious presence of what Jonathan Wilson-Hartgrove termed "slaveholder religion." We will dream together of spiritual practices designed to counter the racially divisive norms of the American Church.
Wednesday Morning Enrichment Sessions
Embodied Prayer for People Who Hate Moving with Joanne Spence, Yoga Therapist and Director, Urban Oasis, Pittsburgh, Pa.
Treat yourself to the mindful practice of yoga in a quiet, meditative setting.
Setting the Table: Worship Preparation with Kendra Buckwalter Smith, Director of Worship, PTS, Cláudio Carvalhaes, and Bethany McKinney Fox
We invite conference attendees to join in the preparation of the space for worship and celebration of the Lord's Supper to conclude our time together.
Walking the Labyrinth with Lori Liller Arnold, Continuing Education Coordinator, PTS
Join us for a brief introduction to the labyrinth as a way of prayer in movement. We will be walking and praying the paths on the grounds in front of Hicks Chapel, weather permitting.
Writing as Practice: The Sacred Art of Listening with Jonathan Callard, Memoirist and Writing Consultant, Pittsburgh, Pa.
Writing itself can be a spiritual practice, an act of prayer. We will draw on Scripture and imagination to open our senses to how God may be speaking to us, both in the moment and in our lives. Bring a notebook and a favorite writing utensil, and be prepared to be led by the words flowing out of you. Whom are you writing for? And with whom are you writing?
Lodging / CEUs / Directions
Lodging
On-campus housing is limited. To make reservations for a room in Calian Hall, call 412-924-1397 or E-mail reception@pts.edu. The Hotel Indigo East Liberty provides a discount for PTS guests. Details about other housing options in the area can be requested from the CE office.
CEUs
CEUs are available for clergy upon request. Conference registration is required. To receive a certificate, E-mail ConEd@pts.edu.
Directions
Directions to the Seminary. Free parking is available on the campus of the Seminary behind the chapel and there will be directional signs to indicate where events are being held. Campus map.
Conference Schedule
Henderson Summer Leadership Conference Schedule

Between the Altar and the World: Interpreting the World Liturgically

Sunday, June 2
6:00-7:00 p.m.
Registration
7:00-9:00 p.m.
Movie and Discussion: "Won't You Be My Neighbor?" - FREE/OPEN TO PUBLIC
Hicks Chapel Auditorium
Monday, June 3
8:30-9:00 a.m.
Registration
Main Rotunda, Long Hall
9:15-9:45 a.m.
Opening Worship
Hicks Chapel Sanctuary
9:45-10:00 a.m.
Break
Main Rotunda, Long Hall
10:00-11:30 a.m.
Plenary Session: Liturgies of the World with Cláudio Carvalhaes
Knox Room, Long Hall
12:00-1:00 p.m.
Lunch
Kadel Dining Hall
1:15-2:45 p.m.
Workshops
Long Hall, various rooms
2:45-3:00 p.m.
Break
Main Rotunda, Long Hall
3:00-4:30 p.m.
Workshops
Long Hall, various rooms
5:00-6:00 p.m.
Dinner
Kadel Dining Hall
7:00-9:00 p.m.

Liturgies of the Neighborhood with Cláudio Carvalhaes

Henderson Lecture on Church and Ministry / ALL ARE WELCOME / FREE

Hicks Chapel Sanctuary

Tuesday, June 4
8:30-9:00 a.m.
Registration
Main Rotunda, Long Hall
9:15-9:45 a.m.
Morning Worship
Hicks Chapel Sanctuary
9:45-10:15 a.m.
Break
Main Rotunda, Long Hall
10:15-11:45 a.m.
Plenary Session: Disability and the Way of Jesus with Bethany McKinney Fox
Knox Room, Long Hall
12:00-1:00 p.m.
Lunch
Kadel Dining Hall
1:15-2:45 p.m.
Panel Discussion with C. Carvalhaes, B.McKinney Fox, and workshop leaders
Knox Room, Long Hall
3:00-5:00 p.m.
Networking Session / Book Signing and Happy Hour
Kelley-Orr Lounge, Barbour Library
5:00 p.m.-
Free Evening
Wednesday, June 5
8:30-9:00 a.m.
Registration
Main Rotunda, Long Hall

9:00-10:00 a.m.

Plenary Session: Liturgies of the Church with Cláudio Carvalhaes

Knox Room, Long Hall

10:15-11:15 a.m.

Choice of activity

Enrichment Sessions:

Embodied Prayer for People Who Hate Moving with Joanne Spence

Setting the Table: Worship Preparation with Kendra Buckwalter Smith, Cláudio Carvalhaes, and Bethany McKinney Fox

Walking the Labyrinth with Lori Liller Arnold

Writing as Practice: The Sacred Art of Listening with Jonathan Callard

Various Locations / Look for signs.
11:15-11:30 a.m.
Break
Main Rotunda, Long Hall
11:30 a.m.-1:30 p.m.
Lord's Supper and Lunch
Kadel Dining Hall
1:30 p.m.
Farewells and Departure
Safe Travels!
Fees
Full conference registration fee and meals: $250
One-day registration fee including meals: $95
Group registration: Church/ministry groups who register three people to attend the full conference will receive the fourth registrant for free. Please e-mail ConEd@pts.edu to receive this discount; we will register your group.
Lodging is not included in the conference registration fee.