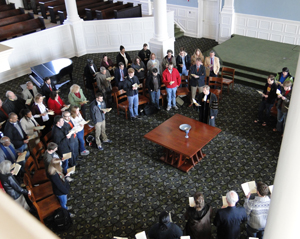 From April 7-11, liturgical artist Karen Godecke will lead the Pittsburgh Seminary community toward enhancing our Holy Week/Eastertide chapels. As a resident guest on our campus, Karen will help us create community-made art to include in those services. As part of the week-long program, individuals will be invited to spend a few minutes working on a small piece of what will become a large art installation in Hicks Chapel. You are always welcome to join us for worship, Monday-Thursday at 11:30 a.m. during the academic year. Services are held in the Hicks Chapel.

Wed., April 9, 2014, Karen will give a presentation entitled, "Art for Worship: Making Meaning in Community," from 4:00-5:00 p.m. in McNaugher Lounge, McNaugher Hall. The talk is free and open to the public. She explains her calling and approach in these words, "As a Liturgical artist, I want to live an authentic life of faith that is connected to Christian community. This means being an active art-maker in daily life, . . . It also means . . . search[ing] for tangible ways to engage multi-age church members in the creation of visual faith-art."
This program is made possible through a Worship Renewal Grant from the Calvin Institute of Christian Worship, Grand Rapids, Mich., with funds provided by Lilly Endowment Inc.