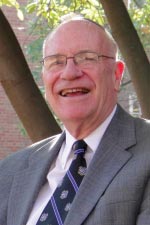 2013Pittsburgh Theological Seminary is mourning the loss of long-time friend the Rev. Dr. Robert L. Kelley Jr. '51 who died Oct. 30, 2013, at the age of 85.

"Bob Kelley was both a remarkable teacher and an energetic and attentive pastoral mentor for his students. He had an astonishing impact upon his students as he lived out his vocation to be our Barnabas, the encourager (Acts 4:36)," said the Rev. Dr. Andrew Purves, Professor of Reformed Theology at PTS.

Bob dedicated his life to the teaching and preaching of the Gospel of Christ Jesus. He served Pittsburgh Theological Seminary with a joyful heart throughout his more than 63 year affiliation. He has offered hope and encouragement to both seminary students and students in church congregations. Throughout Dr. Kelley's career his motto was:

J: Jesus first
O: Others second
Y: Yourself last

"Why were students so drawn to him? Because Dr. Kelley learned your name—and never forgot it," said the Rev. Carolyn Cranston '99, director of alumnae/i and church relations at PTS. "He paid attention; he listened; he affirmed; he guided; he respected; he celebrated not only his students, but also every member of the Seminary community. Most of all, Dr. Kelley prayed and continued to pray for a very long list of people."

Kelley was born and raised in a Christian home in Mt. Lebanon, Pa. Upon graduating from Mt. Lebanon High School, Bob received an honor scholarship to the University of Pittsburgh. He completed his course work in three years and entered Pittsburgh-Xenia Theological Seminary in 1948 where he won the Thomas Jamison Scholarship and graduated summa cum laude. While serving as minister of education at a local church, Bob was called to the Seminary as a part-time instructor in homiletics and language study. He was then elected by the Synod to be a full-time member of the faculty. Kelley went on to earn his Th.M. from Princeton Theological Seminary, Ph.D. from Princeton University, and was honored with a D.D. degree from Tarkio College in Missouri. From 1955-1997, he taught principally in the area of New Testament. In 1990, he was named the first occupant of the G. Albert Shoemaker Chair in Bible and Archaeology and upon retirement was granted emeritus status.

In addition to his seminary teaching, Kelley is well known for his preaching and teaching in churches and has served as an interim in 20 congregations over the years. After retirement, Bob was an interim for the Admissions Office and taught two years for the Miller Summer Youth Institute. He served six years on the Alumnae/i Council of Pittsburgh Seminary and served a three year term on the Board of Directors as the Alumnae/i Representative. In 2000, Kelley was honored with the Distinguished Alumnus Award for outstanding service in academia. Honorably retired from the Presbyterian Church (USA), Bob continued to be active in Pittsburgh Presbytery serving on the Pastors Encouraging and Listening (PEAL) team.

Kelley was preceded in death by his life partner of more than 60 years, Ruth Anne Jacob. He is survived by his two children, Kathryn Anne (William) Karns and Robert John (Gloria) Kelley and his grandson Christopher Kelley.

A memorial service will be held Mon., Nov. 11 at 1:00 p.m. in the sanctuary of Westminster Presbyterian Church, Upper St. Clair.

The Seminary continues to raise support for The Rev. Robert L. Kelley Jr., Ph.D. Scholarship.