Seminary Hosts BookTalk Series
An Interdisciplinary Conversation with Drs. Jerome Creach and Edwin van Driel
Dec. 10, 2021
4:00-5:15 p.m. ET
To register for this BookTalk, which will be held on Zoom as a webinar, please contact Holly McKelvey at hmckelvey@pts.edu.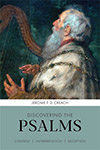 Join Pittsburgh Theological Seminary's Barbour Library and Center for Writing and Learning Support for our December 2021 BookTalk featuring faculty members the Rev. Drs. Jerome Creach and Edwin van Driel, who have recently published books that cross disciplinary lines within the theological fields. Their work offers us the opportunity to have a robust conversation with two well-respected scholars about the fruitful interdisciplinary work that is possible in theology and biblical studies. Come hear Drs. Creach and van Driel talk about their books, Discovering Psalms: Content, Interpretation, Reception and Rethinking Paul: Protestant Theology and Pauline Exegesis, respectively. Bring your curiosity, questions, and love of the Bible and theology, ready for what is sure to be an exciting discussion!
With questions about BookTalks, please contact Dr. Shan Overton, director of the Center for Writing and Learning Support at moverton@pts.edu.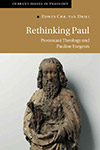 In the meantime, we encourage you to visit Barbour Library's website to review the Library Guide (a.k.a. LibGuide) for this conversation, which will provide additional bibliographic resources for you to consider regarding the scholarship of Drs. Creach and van Driel and other related materials. The LibGuide for this BookTalk may be found at https://guides.pts.edu/facultyseries.
The Seminary's BookTalk Series is hosted by the Center for Writing and Learning Support and Barbour Library.
Previous BookTalk Events
Edith Humphrey
Nov. 5, 2021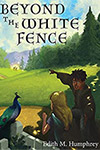 Dr. Edith Humphrey, William F. Orr Professor Emerita of New Testament at Pittsburgh Theological Seminary, discusses her recently published first major work of fiction, the children's book, Beyond the White Fence. Hear about her creative process, the connections between her children's novel and the Narnia series of C. S. Lewis, and her plans for her course on Lewis in the Doctor of Ministry program in Creative Writing and Public Theology.
Massimo Faggioli
March 12, 2021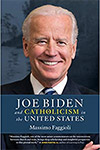 The United States' election in November 2020 was notable in a variety of ways, not the least of which was the election of a Catholic to serve as president—only the second in our nation's history. Joseph R. Biden's presidency has a striking relevance in this moment of our unfolding national story as we question the nature and meaning of the American project. Who are we as a nation? How do we wrestle with the tensions between our societal diversity and our seeking of the common good? What is the proper relationship between church and state? What's our understanding of the presidency itself? And what does it mean to be Catholic in a society that launched with a Protestant vision?
Historian and theologian Massimo Faggioli, whose new book Joe Biden and Catholicism in the United States (Bayard, 2021), addressed these questions through the double lens of Joe Biden's place in United States history and the triangular relationship between the U.S. Catholic Church, Vatican, and presidency.
Faggioli's perspective as an interpreter of American Catholicism is unique due to his roots in Italy and is deeply informed by an intense study of the context of Catholicism within the U.S. His book has been called, "a timely, thoughtful, provocative, and necessary book for our moment" by journalist and commentator E. J. Dionne. And Julian Coman, associate editor of The Guardian notes that it is "a must-read for anyone who truly wants to understand Joe Biden." Watch the video from Massimo Faggioli's BookTalk.
Joanne Spence
March 26, 2021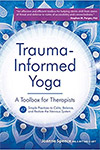 In this time of upheaval and grief, many of us are experiencing emotional, physical, and even spiritual stresses and strains that may surprise us. Some observers have labeled this as a time of trauma for people in American society, noting that many are in looking for ways to heal due to their experiences during the pandemic. Into this space comes the helpful and insightful voice of PTS alumna and Board member Joanne Spence, a spiritual director, social worker, and yoga teacher whose work in addressing trauma and stress through breath and movement has been groundbreaking. Spence's wisdom, conveyed in Trauma-Informed Yoga: A Toolbox for Therapists (PESI, 2021), developed over the last 21 years through her teaching in schools, veteran's groups, churches, hospitals, prisons, the seminary, and even in her own backyard! Along the way, we discuss the ways in which Spence's theological studies at PTS have informed her approaches to both writing and teaching yoga. Watch the video from Joanne Spence's BookTalk.