Accepting Applications for January 2022
Grounded in the rich and sustaining history of the Black church in the United States and attentive to liberatory movements formed in faith orientations sometimes transcending church bounds, the Intergenerational Black Church Studies Focus brings together an intergenerational cohort of ministry leaders to explore past, present, and future trajectories of Black church life. Emphasizing ecclesial pressure points, expressions of social unrest, and creative spaces generating new formulations of black life, this focus will equip people for contemporary ministry by reaching deep within the history of traditions of the Black church while venturing out to learn from practices in design, arts, communications, and community organizing.
Black ministry contexts, forms, and cultures are rapidly changing—at times actively incorporating and innovating upon previous trajectories, and at times pressing forward into uncharted 'ministry' territories. This program facilitates cross-generational and cross-sectoral assessments of established traditions and emerging expressions of collective black faith and its relationship to social context. - The Rev. Dr. R. Drew Smith, Professor of Urban Ministry
What is the Doctor of Ministry Program like at Pittsburgh Seminary?
Renew your theological imagination! The Doctor of Ministry program allows you to step out of your ministry context to sift through new information and ideas, then step back in to discover how and why that learning matters. At the end of your course work, you will design and implement a project that engages your ministry context in conversation with your work in the classroom. Students typically complete the program in three to four years.
This program is 36 credits and is to be completed in three years to four years. Applications to this DMin cohort are accepted on a continual basis. Apply now to reserve your space in the next focus, expected to begin in January 2022. Application deadline is Dec. 15, 2021. Financial aid and scholarships are available for those who qualify.
What will we be exploring in the Intergenerational Black Church Studies focus?
In this focus we seek to learn about, learn from, and be formed by coordination and conflict between two intertwining streams of expression in the Black church: ecclesial expressions of church and larger social movements. Students will be taking courses such as these from faculty at PTS and beyond:
Intergenerational Dynamics in Black Religious Institutions, Movements, and Practices
Attending to Lived Theology
History of Black Church Activism in the United States: Hush Arbors to Black Lives Matter
Design Thinking and Ecologies of Ministry
Black Church Traditions and Scripture
Proclamation, Witness, and Community Literacy
Gender and Black Church Leadership
Leadership, Endurance, and Resilience
Black Churches and Moral Authority
Living Into Kairos Moments: Black Church Responsiveness to Pressing Issues of the Day
Theological Engagements in Fluid Contexts: Ministry Beyond Ecclesial Walls and Forms
Mobilizing Global Blackness: Cross-National Racial Consciousness in Socio-Religious Movements Today
When and where do the classes meet?
D.Min. classes are held at Pittsburgh Theological Seminary in Pittsburgh, Pa., and in other locations, during two-week blocks of time, typically in January and June. The cohort begins January 2022 in Pittsburgh.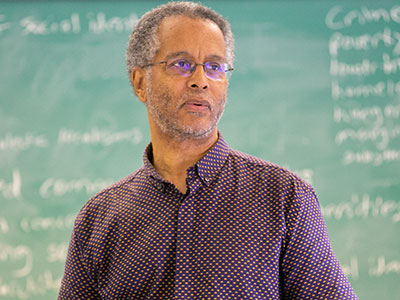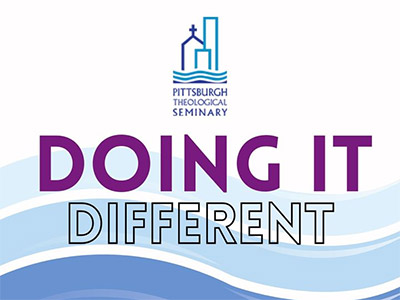 Welcome to Doing it Different, a limited podcast partnership with Porshanality Media and Pittsburgh Theological Seminary. This podcast explores the Seminary's cutting-edge Doctor of Ministry degree and its various focus areas. Together we will explore conversations with faculty, staff, and students alike. Cheers to Doing It Different.
In episode 3, the new Intergenerational Black Church Studies Doctor of Ministry Focus, including its origins, hopes, and dreams, is the subject of this discussion between Drew Smith, faculty mentor, and Porsha Williams Gates. Listen to Episode 3.
Race, theology, gentrification and aesthetics feature prominently in this discussion of work at Pittsburgh Theological Seminary under a grant from the Henry Luce Foundation. The grant examines the soft violence of gentrification and displacement as well as the hard violence and death that plays out in neighborhood change. An important feature of the grant is attention to sensory formations of race and place, and this discussion highlights how a focus on aesthetics informs the work of the grant and its intersection with life and formation at the Seminary. Dr. Drew Smith, Dr. Denise Thorpe, Dr. Scott Hagley, and PTS student researcher Shannon Garrett-Headen participate in the discussion with Porsha Williams Gates. Listen to Episode 4.
In this podcast the Rev. Porsha Williams Gates interviews Dr. Jennifer Kaalund, who has recently joined Pittsburgh Theological Seminary as associate professor if New Testament. Dr. Kaalund talks about hope, womanism, favorite Scripture passages, and her commitment to interpreting Christian Scripture as a word from God that brings people together rather than as a weapon that wounds. Listen to Episode 6.
The Rev. Porsha Williams Gates discusses a grant to the Metro-Urban Institute by the Henry Luce Foundation to respond to the effects of COVID-19 on Black and Latinx communities. The Rev. Dr. Deirdre Hainsworth and the Rev. Dr. John Welch '02 discuss their work on the grant, what they have learned from the communities they have worked with, the value of this work to the Seminary, and the documentary sharing stories of systemic racism and the resilience of communities that is being produced through the grant. Listen to Episode 9.