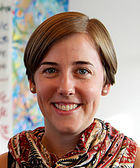 Pittsburgh Theological Seminary has named the Rev. Karen Rohrer as director of the Church Planting Initiative effective Dec. 12, 2016. The Seminary's Church Planting Initiative forms and supports Christian leaders who participate in God's work of developing new Christian communities and revitalizing existing congregations.
"Karen will be a strong addition to the PTS team because of her experience leading a new church community, the connections she has made between community development and the Church, her mentorship of seminary student interns, and her attentiveness to discerning God's work in the world," said the Rev. Dr. David Esterline, president and professor of cross-cultural theological education at Pittsburgh Theological Seminary.
Rohrer currently serves as organizing co-pastor and co-director of Beacon, a new church development of the Presbyterian Church USA in Philadelphia that she helped found. Beacon is a faith community that strengthens the neighborhood through worship, art, and storytelling. Previously Rohrer served as pastoral associate in the Pastoral Immersion Program at Broad Street Ministry and Arch Street Presbyterian Church. In that role she worked with pastoral teams in three distinct new and revitalizing church contexts to craft worship identities and experiences that fostered transformative encounters with God and community.
Rohrer is a graduate of University of Mary Washington (BA) and Princeton Theological Seminary (M.Div.). She is ordained in the Presbyterian Church USA and has won awards for her entrepreneurial faith leadership. Additionally she serves as a coach in the 1001 New Worshiping Communities initiative of the PCUSA. Rohrer is a Beatitudes Society Fellow, class of 2014; a Philly Girls Do Good member, class of 2015; and a board member of the New Kensington Community Development Corporation.