In 1983 Pittsburgh Theological Seminary and the School of Law at Duquesne University established a joint degree program leading to the Master of Divinity and Juris Doctor (JD) degrees.
In the Judeo-Christian tradition the relationship is very close between justice and law and the ministry of the people of God. The practice of ministry is frequently intertwined with the administration of law. This joint effort enables students to receive both the M.Div. and JD degrees in five years of post-baccalaureate study instead of the usual six.
The joint degree program provides a full course of study in both theology and law. This is accomplished by allowing certain courses taken in each school to be used as electives in the other.
Careers for M.Div./JD Grads
Graduates of the program work in a wide array of professional tasks, such as law firms specializing in serving religious institutions as clients, church boards and agencies, and parish ministries of various kinds.
Application Instructions
Admission to the joint program may be obtained prior to the first year of study at either school. Admission into the program is determined by each institution separately; admission into one institution does not guarantee admission to the other. Interested candidates to the joint degree program should refer to each school's program brochures or websites for specifics on admission requirements. Prospective students should be advised that admission into the JD portion of this program does require satisfactory LSAT scores. JD applications should be received by March 1 for priority consideration.
Inquiries about the School of Law at Duquesne University should be directed to Duquesne University School of Law at 412-396-6300 or lawadmin@duq.edu.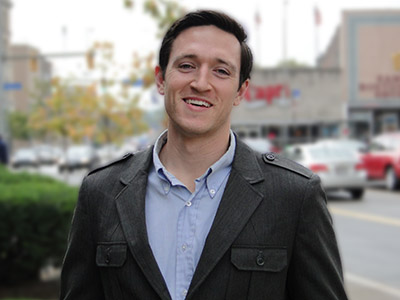 When I told people about my joint degree program they didn't understand how the two could fit together. It's always made sense to me though. Central to both the Christian and Western legal traditions are the concepts of equity and justice. If church and law don't immediately conjure these concepts for people, then they are missing the point. - Darren Belajac '12
Origami as a Spiritual Practice
April 5, 2018
For more than 30 years, I have enjoyed the Japanese art of origami. For most of that time, creating objects by folding a single sheet of paper was a hobby. Scrap paper is literally everywhere, so finding material has never been a problem. A brightly colored ad from a magazine would become a flower. A discarded memo would end up as a crane, or a dragon. A sticky note was easily turned into a fish or a butterfly. Early on, folding paper became a way of losing myself in the creative process. Origami, like many arts, is a way of making something special out of the mundane. It is a [...]
The post Origami as a Spiritual Practice appeared first on Pittsburgh Theological Seminary.
Easter Dawns in Pittsburgh's Riverview Park
March 29, 2018
"Easter Sunrise Service in the park. It sounded good to our family. But the only one we knew about in Pittsburgh was held in Schenley Park, way on the other side of the city. It would mean at least an hour's street car ride to get there, so, of course, we didn't go. That was in 1932." So recalled Northside resident Helen Nichols in 2008. She went on: "Then one day we heard that a group of people in our area were starting a sunrise service to be held in Riverview Park. That was in our backyard! So of course, we attended." And thus began what has become a nearly [...]
The post Easter Dawns in Pittsburgh's Riverview Park appeared first on Pittsburgh Theological Seminary.