In 1983 Pittsburgh Theological Seminary and the School of Law at Duquesne University established a joint degree program leading to the Master of Divinity and Juris Doctor (JD) degrees.
In the Judeo-Christian tradition the relationship is very close between justice and law and the ministry of the people of God. The practice of ministry is frequently intertwined with the administration of law. This joint effort enables students to receive both the M.Div. and JD degrees in five years of post-baccalaureate study instead of the usual six.
The joint degree program provides a full course of study in both theology and law. This is accomplished by allowing certain courses taken in each school to be used as electives in the other.
Careers for M.Div./JD Grads
Graduates of the program work in a wide array of professional tasks, such as law firms specializing in serving religious institutions as clients, church boards and agencies, and parish ministries of various kinds.
Application Instructions
Admission to the joint program may be obtained prior to the first year of study at either school. Admission into the program is determined by each institution separately; admission into one institution does not guarantee admission to the other. Interested candidates to the joint degree program should refer to each school's program brochures or websites for specifics on admission requirements. Prospective students should be advised that admission into the JD portion of this program does require satisfactory LSAT scores. JD applications should be received by March 1 for priority consideration.
Inquiries about the School of Law at Duquesne University should be directed to Duquesne University School of Law at 412-396-6300 or lawadmin@duq.edu.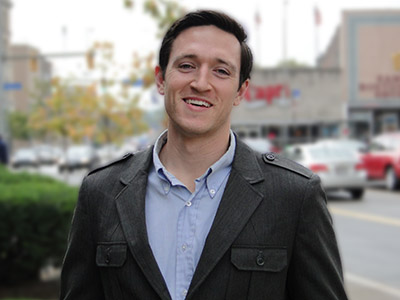 When I told people about my joint degree program they didn't understand how the two could fit together. It's always made sense to me though. Central to both the Christian and Western legal traditions are the concepts of equity and justice. If church and law don't immediately conjure these concepts for people, then they are missing the point. - Darren Belajac '12
Trusting God in the Middle of Uncertainty
July 31, 2018
  I live in San Sebastián, Puerto Rico. On Sept. 20, 2017, Hurricane María struck our island as the strongest cyclone in modern history with winds up to 175 mph and rainfall measuring up to 37.9 inches. My mother is the executive director of El Guacio, Puerto Rico's only Presbyterian camp. Here, we passed the storm.   Each of the events that occurred in the camp resulted in great stories of faith and resilience. Power, water, and communications completely fell a few hours in. When we were able to come outside, we saw we were trapped beneath many feet of branches. With help of the community, it took two days [...]
The post Trusting God in the Middle of Uncertainty appeared first on Pittsburgh Theological Seminary.
Is It Christian Enough? Watching "A Wrinkle in Time" with My Daughter
June 4, 2018
My eight-year-old daughter and I left the theater and walked into the bright afternoon sun holding hands. We'd just seen A Wrinkle in Time. That's a pretty good way for a dad to finish a movie about a daughter who travels billions of light years to rescue her less-than-perfect father from the clutches of evil. As she clenched my hand, she asked, "Dad, would you say that was a movie about self-discovery?" "That was part of it. What do you think Meg discovered?" "That who she is is who she was meant to be." Pretty good, I thought. "And who she is is worthy—and capable—of love, right?" She just squeezed [...]
The post Is It Christian Enough? Watching "A Wrinkle in Time" with My Daughter appeared first on Pittsburgh Theological Seminary.