SPEAKER and PANEL DISCUSSANT
SPEAKER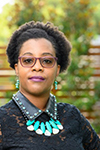 Kimberly D. Hill grew up browsing the exhibits at the George Washington Carver Museum and the Lyndon Baines Johnson Library and wished for similar insight into her own family history. Her historical research began around age 10 when she "shopped" through microfilmed pages of the 1910s Sears catalog. Fascination with the racial justice themes portrayed in reruns of the "The Smothers Brothers Comedy Hour" inspired her to focus on African American history. Her University of Texas at Austin honors undergraduate thesis on American Christians' patterns of interracialism and segregation made her wonder about the impact of global contexts on race relations within the United States. At the University of North Carolina at Chapel Hill, Hill completed a dissertation on the work of three women from the American South who became missionaries in the mid- to late-19th century. The chapter on a Southern Presbyterian missionary blossomed into later publications on the history of African American Presbyterian ministers since 1894. Dr. Hill continues to study the strategies that African American Protestant leaders used to promote their goals for social justice and higher education during most of the Jim Crow era (the 1890s through the 1950s). She considers it a privilege to witness the continuance of these leaders' goals through the work of their surviving relatives, their African communities, and their favorite historically Black colleges and universities. Most recently, Hill has started articles connecting African American missionaries and leaders within the YWCA and YMCA to the Black freedom struggle of the 1950s and 1960s. She recently published a book on her research, A Higher Mission: The Careers of Alonzo and Althea Brown Edmiston in Central Africa.
PANEL DISCUSSANT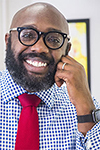 Asa J. Lee serves as president and professor of theological formation for ministry at Pittsburgh Theological Seminary, a position he has held since 2021. Before coming to Pittsburgh, he served for eight years at Wesley Theological Seminary—first as assistant director of programs for the church leadership center, then as associate dean for community life, director of African American Church Studies, and (in his final year) vice president for campus administration. During this same span, he served for 10 years as assistant pastor and minister of Christian education for Mt. Olive Baptist Church in Arlington, Va., and he was previously the minister of worship and arts for St. John Baptist Church in Columbia, Md. Dr. Lee holds membership in the American Academy of Religion, the Religious Education Association, and the Association of Leadership Educators, and he is the acting president of the FaithJustice Foundation. He holds degrees from Virginia Theological Seminary, Wesley Theological Seminary, and Hampton University. Lee is an ordained minister in the Progressive National Baptist Convention.
CEUs and Questions
CEUs
If you would ike a certificate for 1.5 CEUs/lecture, please e-mail ConEd@pts.edu.
QUESTIONS
E-mail ConEd@pts.edu or call 412-924-1345 with your questions.