The Spirit's Mission of Hospitality in a Pluralistic World
W. Don McClure Lectures in World Mission and Evangelism
Speaker
Amos Yong, Professor of Theology and Mission and Director of the Center for Missiological Research, Fuller Theological Seminary
Dates
Sept. 25, 2017
11:30 a.m. Chapel Service
4:00 p.m. "Guests, Hosts, and the Spirit in an Imperial World"
5:30 p.m. World Mission Initiative Dinner, Kadel Dining Room See registration details below.
7:30 p.m. "Pentecost and Hospitable Witness in a Postcolonial World" An ASL interpreter will be present for this lecture.
Sept. 26, 2017
11:30 a.m. Chapel Service
All sessions are free and open to the public. Contact the Seminary's Office of Continuing Education at ConEd@pts.edu or 412-924-1345 for more information.
Overview
Join us for the annual W. Don McClure Lectures Mon., Sept. 25, and Tues., Sept. 26, 2017. Keynote speaker Amos Yong, professor of theology and mission and director of the Center for Missiological Research at Fuller Theological Seminary, will present on the theme of "The Spirit's Mission of Hospitality in a Pluralistic World." These lectures and discussions, held in the John Knox Room, Long Hall on the Seminary campus, are free and open to the public.
Dinner Registration
The World Mission Initiative Dinner will begin at 5:30 p.m. Advance reservations are necessary to join us for dinner. Tickets are $15/person.

Speaker Bio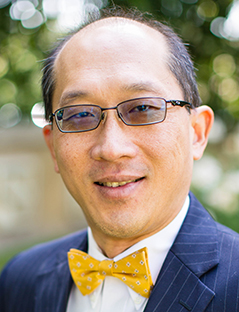 Amos Yong is professor of theology and mission and director of the Center for Missiological Research at Fuller Theological Seminary in Pasadena, Calif. His graduate education includes degrees in theology, history, and religious studies from Western Evangelical Seminary (now George Fox Seminary) and Portland State University and Boston University, as well as an undergraduate degree from Bethany University of the Assemblies of God. He has authored or edited more than 40 volumes.
Yong came to Fuller Seminary in 2014 from Regent University School of Divinity, where he taught for nine years, serving most recently as J. Rodman Williams Professor of Theology and dean. Prior to that he was on the faculty at Bethel University in St. Paul, Bethany College of the Assemblies of God, and served as a pastor and worked in social and health services in Vancouver, Wash.

Yong's scholarship has been foundational in Pentecostal theology, interacting with both traditional theologies and contemporary contextual theologies—dealing with such themes as the theologies of Christian-Buddhist dialogue, disability, hospitality, and the mission of God. Among his most recent works are The Future of Evangelical Theology: Soundings from the Asian American Diaspora (IVP Academic, 2014); Renewing Christian Theology: Systematics for a Global Christianity, with Jonathan A. Anderson (Baylor University Press, 2014); Interdisciplinary and Religio-Cultural Discourses on a Spirit-Filled World: Loosing the Spirits, coedited with Veli-Matti Kärkkäinen and Kirsteen Kim (Palgrave Macmillan, 2013); Pneumatology and the Christian-Buddhist Dialogue: Does the Spirit Blow through the Middle Way? Studies in Systematic Theology 11 (Brill, 2012); The Cosmic Breath: Spirit and Nature in the Christianity-Buddhism-Science Trialogue, Philosophical Studies in Science & Religion 4 (Brill, 2012); and Spirit of Love: A Trinitarian Theology of Grace (Baylor University Press, 2012). He has also authored 175 (and counting) scholarly articles in a wide range of peer-reviewed journals, edited book collections, and other venues. Dr. Yong is past president of the Society for Pentecostal Studies.
About the W. Don McClure Lectures
These lectures honor the Rev. Dr. W. Don McClure, a 1934 graduate of Pittsburgh Theological Seminary, who served as a missionary in Africa for nearly 50 years. McClure's years in Africa spanned dugout canoes to jet boats, in an arc through Sudan and Ethiopia equal to the distance between Pittsburgh and Dallas. After retirement he continued as a volunteer at Gode, Ethiopia, until guerrillas killed him on March 27, 1977. Don McClure's life story is told in Adventure in Africa: From Khartoum to Addis Ababa in Five Decades (1990; now available in Kindle format) written by Charles B. Partee, P.C. Rossin Professor Emeritus of Church History at the Seminary.