"Mister Rogers: Just the Way You Are, 2019" On Display at Pittsburgh Seminary
Through mid-May 2020, you're invited to the Seminary's Barbour Library to view "Mister Rogers: Just the Way You Are, 2019," an interactive mixed media portrait of the Rev. Fred "Mister" Rogers '62 created by artist Wayne Brezinka.
In January, author Shea Tuttle discussed her book Exactly as You Are: The Life and Faith of Mister Rogers. Download the book study guide, written by Dr. Helen Blier, director of Continuing Education at PTS.
This traveling exhibition is a unique experience of Mister Rogers incorporating both two- and three-dimensional elements through the use of objects, artifacts, and memorabilia. Assembled together, these items craft extraordinary storylines within this artistic profile of America's most beloved neighbor, Mister Rogers.
The mirror allows the viewer to see their reflection appearing next to Mister Rogers. "I believe as humans we all want the same thing—and that is to be seen, to be heard, and to be loved as we are," said Berzinka.
Among the objects used in this piece are a handwritten note dated 1994 from Fred Rogers to longtime friend Amy Hollingsworth (who wrote The Simple Faith of Mister Rogers and discussed her work during a previous Henderson Summer Leadership Conference at the Seminary), an original pair of Fred's glasses, two bow ties gifted by Fred's widow, Joanne Rogers, and a T.T.T. Tame Tiger Torganization membership pin, in addition to vintage photos from Fred's childhood.
"The portrait is making its way around the country, and we're thankful for the opportunity to host it on campus, the place where Fred Rogers earned his master of divinity degree and prepared for his ordained ministry in children's television. Fred's message of loving all God's children resonates with his alma mater to this day," said President David Esterline.
This piece will hang in the Barbour Library outside the Fred Rogers Family Room. Guests are welcome to see the portrait during the Library's regular hours.
Brezinka offers sincere gratitude and heartfelt thanks to PBS, Joanne Rogers, The Fred Rogers Company, and The Fred Rogers Archives for the opportunity to create this amazing piece.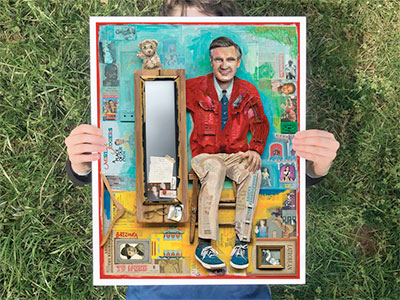 All rights reserved © 2019 Wayne Brezinka