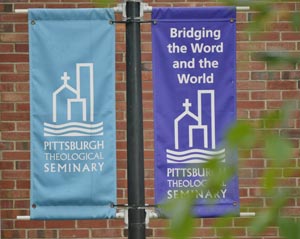 The Board of Directors and the Pittsburgh Theological Seminary community invite applications and nominations for the position of President. PTS is a graduate professional institution affiliated with the Presbyterian Church (U.S.A.).
Firmly grounded in the Reformed tradition, Pittsburgh Theological Seminary serves as a Christ-centered, scripturally-grounded, and ecumenically-minded institution that seeks to be culturally relevant as it attends to the formation of women and men for theologically reflective ministry and scholarship in service to the church of Jesus Christ, the public square, and the world at large. A committed leadership team, passionate and student-centered faculty and staff, a student body eager for intellectual and spiritual growth, and an endowment of more than $180 million have PTS poised for future growth.
PTS offers programs leading to the Master of Divinity, Master of Arts, Master of Arts in Theology and Ministry, Master of Sacred Theology, and Doctor of Ministry degrees. A Church Planting Emphasis and Certificate in Urban Ministry within the Master of Divinity Program and cooperative joint-degree programs with the University of Pittsburgh, Carnegie Mellon, and Duquesne University enhance the Seminary's degree programs. The Seminary's Continuing Education offerings attract more than 2,000 clergy and lay participants annually, and integrated into the campus are national and international programs such as the Metro-Urban Institute, the World Mission Initiative, the Kelso Museum of Near Eastern Archeology, the Miller Summer Youth Institute, and the Church Planting Initiative. With a current enrollment of 246, Seminary students are denominationally diverse and represent more than 30 states and several countries. PTS welcomes Christians of all denominations into the life of the Seminary.
The President will guide the Seminary to its next level of success through entrepreneurial, transparent, and collaborative leadership. Qualifications include: exhibiting humility, spiritual maturity, and confidence in God's gracious calling in Jesus Christ; experience with visioning, developing, and implementing a strategic plan; a proven record of success in senior management and leadership in either higher education and/or in complex organizations; a strong commitment to external resource development; and the ability to promote an institutional culture that is consultative, decisive, accountable, and energized. A terminal degree from an accredited institution of higher education is preferred.
The review of applications will begin immediately. To ensure full consideration, materials are due by Nov. 13. Prior to submitting application materials, please review the profile.
Pittsburgh Theological Seminary is being assisted with this search by R. H. Perry & Associates. All communications may be directed in confidence to: Mr. Matthew Kilcoyne, Vice President at 202-253-9846, Dr. Roger Martin, Senior Consultant at 914-777-1644, or to PTSPresident@rhperry.com.
Pittsburgh Theological Seminary is an equal opportunity employer.