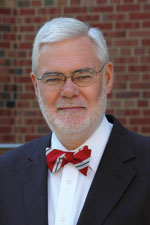 Pittsburgh Theological Seminary has named the Rev. Dr. Andrew Purves as the Jean and Nancy Davis Professor Emeritus of Historical Theology. Purves retires this month after more than 32 years at Pittsburgh Seminary.
A native of Edinburgh, Scotland, Purves received degrees in philosophy and divinity from the University of Edinburgh, and a Th.M. from Duke Divinity School. His Ph.D. is from the University of Edinburgh. Purves came to the US in 1978 and was ordained by Philadelphia Presbytery. He served as minister of the Hebron Presbyterian Church, Clinton, Pa., until 1983, when he was called to join the faculty of Pittsburgh Theological Seminary.
Purves has a long list of publications, both books and articles, academic and popular. His most recent book is Christology and Atonement: Theological Engagements With John McLeod Campbell, Hugh Ross Mackintosh, and Thomas Forsyth Torrance (IVP Academic). Other books include, The Search for Compassion: Spirituality and Ministry, Union in Christ (with Mark Achtemeier), A Passion for the Gospel (with Achtemeier), Encountering God: Christian Faith in Turbulent Times (with Charles Partee), Pastoral Theology in the Classical Tradition, Reconstructing Pastoral Theology: A Christological Foundation, The Crucifixion of Ministry, and The Resurrection of Ministry.
In addition to his academic work, Purves has served the church and wider community through this work with the Presbyterian Church (USA) and lectureships around the world including TEDx Leadership Pittsburgh.
In recognition of his career, colleagues from a variety of disciplines and around the globe are contributing essays to a book which explores the topic "What Is Jesus Doing: Divine Agency in the Life of the Church and the Ministry of the Pastor." Contributors include: Scott Hagley, Angela Dienhart Hancock, L. Roger Owens, Edwin Chr. van Driel (Pittsburgh Theological Seminary); David Fergusson (Edinburgh University); M. Craig Barnes, Darryl Guder, George Hunsinger, Deborah van Deusen Hunsinger (Princeton Theological Seminary); Alan Torrance (St. Andrew's University); Andrew Root, Dwight Zscheile (Luther Seminary); Will Willimon (Duke Divinity School); Anthony B. Robinson (Congregational Leadership Northwest); Nicholas P. Wolterstorff (Yale University); Trygve Johnson (Hope College); and John Witvliet (Calvin College and Calvin Theological Seminary).