PITTSBURGH SEMINARY REMEMBERS DISTINGUISHED ALUMNUS THE REV. DR. JAMES FOSTER REESE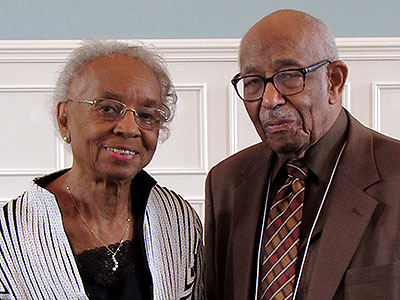 Pittsburgh Theological Seminary mourns the loss of the Rev. Dr. James Foster Reese '49, who died peacefully at home June 17, 2022, at the age of 98. In 2003 PTS honored him with the Distinguished Alumnus Award in Specialized Ministry, and he was the featured speaker for the Seminary's Alumnae/i Days in 2019.
Reese, a native of Harrodsburg, Ky., held a bachelor's degree from Knoxville College, a master of divinity from Pittsburgh Theological Seminary, and a master of education in religious education from the University of Pittsburgh. For more than 70 years, he served God as a highly acclaimed pastor and leader in the Presbyterian Church (U.S.A.), and as an advocate for civil and human rights.
"He's done everything," says the Rev. Carolyn Cranston '99, director of alumnae/i and church relations at PTS. Reese was first called to pastor three congregations in southern Alabama in the 1950s. He then served as pastor of First UPC on the campus of Knoxville College, at one point taking a sabbatical to serve in Kenya as a professor of homiletics. He then served as the Christian education consultant for the Synod of Catawba in Charlotte, N.C., followed by several decades of work at the PC(USA)'s General Assembly Office prior to retiring in 1993. He took on various roles throughout the years, including as director of the Racial Ethnic Ministry Unit, and serving on the General Assembly's Peacemaking Committee, including time as its chairman.Reese once reflected on his commitment to civil rights, saying he "sat at dozens of tables of decision making," where "things didn't always go as I wished. I felt marginalized, separated, ignored. But one thing I have never done: I have never left the table."
In retirement, Reese continued as interim executive presbyter for the presbyteries of New York City, Detroit, and Newark, and served as member and/or chair of many committees at Knoxville College and for the PC(USA). He preached regularly and served as a supply pastor well into his 90's.
In addition to his Distinguished Alumnus Award from PTS, Reese also received an honorary Doctor of Divinity from Knoxville College, the Edler G. Hawkins Award from the National Black Presbyterian Caucus, the Lucy Craft Laney Award from the Black Presbyterian Women's Association, and the Maggie Kuhn Award from Presbyterian Senior Services.
Dr. Reese is survived by his wife, Neola (Parrish) Reese, three children, and six grandchildren.