Dr. Ed Simon
Oct. 14, 2022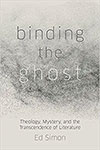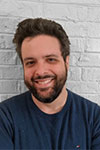 Binding the Ghost (Fortress Press, 2022) is both manifesto and example of a new variety of reading that centers a theological perspective in considering what literature actually does. Neither dogmatic nor apologetic, sectarian or denominational, this mode of reading acknowledges the inherently charged strangeness of writing and fiction, whereby authors have the ability to seemingly create entire universes from words alone.
Dr. Ed Simon considers the theological depth, resonance, and mystery of the acts of reading and writing. His lyrical, incisive essays cover subjects such as the incarnational poetics of reading a physical book as opposed to reading online, the historical relationship between monotheism and the development of the alphabet, how the novel and Protestantism developed interiority within people, the occult significance of punctuation, and the functional similarities between poetry and prayer. Binding the Ghost presents a humane sacralization of reading and writing that takes into account the wonder, enchantment, and mystery of the very idea of poetry and fiction.
Dr. Simon holds a Ph.D. in English from Lehigh University. He is a staff writer for The Millions, and his work has appeared in The Atlantic, The Paris Review Daily, McSweeney's Internet Tendency, Poetry, The Washington Post, The Rumpus, Salon, Lit Hub, The Los Angeles Review of Books, Religion Dispatches, Newsweek, Killing the Buddha, The Revealer, The Public Domain Review, JSTOR Daily, Tablet, History News Network, Atlas Obscura, Aeon, The New Republic, and The New York Times, among several others. He is also the author of several books, including America and Other Fictions: On Radical Faith and Post-Religion; Furnace of This World, or, 36 Observations about Goodness; and Printed in Utopia: The Renaissance's Radicalism, and is the co-editor of The God Beat: What Journalism Says about Faith and Why It Matters. He is the new editor in chief of Belt Magazine and will be teaching in the PTS Doctor of Ministry in Creative Writing and Public Theology program in fall 2023.
Check out more library and online resources related to this BookTalk.