CELEBRATING THE CLASS OF 2022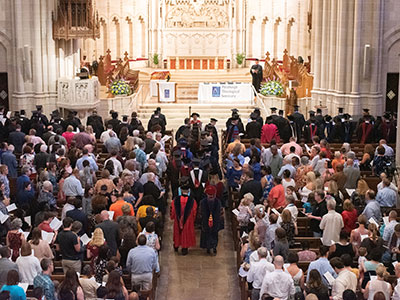 Pittsburgh Theological Seminary celebrated its 226th commencement May 27, 2022, at East Liberty Presbyterian Church.
The Rev. Dr. Derrick Harkins presented the commencement address. Dr. Harkins is director of the Center for Faith-Based and Neighborhood Partnerships at U.S. Department of Housing and Urban Development (HUD). His vocation has led him to serve in the church, in theological education, and in politics. He is a graduate of Boston University, Union Theological Seminary, and United Theological Seminary.
A number of students also received graduation prizes.
Videos
Service of Thanksgiving
Commencement
Photos
Class of 2022
Certificate in Church Planting and Revitalization
Austin Randolph Almaguer
Arlington, Va.
Aaron P. Bailey
Vicksburg, Mich.
Catherine A. Bowser
Pittsburgh, Pa.
Joshua A. Brim-Simpson
Pittsburgh, Pa.
Sharon Davy Carter
Fort Wright, Ky.
Jennifer E. Frayer-Griggs
Pittsburgh, Pa.
Brian S. Gaeta-Symonds
Claremont, Calif.
Ezequiel I. Herrera-Rodriguez
McAllen, Texas
Melissa Rose Smith
Knoxville, Tenn.
Certificate in Theological Studies
Morgan Murphy
Pittsburgh, Pa.
Certificate in Advanced Studies in Ministry
John Pickles
Dumfries and Galloway, Scotland, UK
Master of Arts
Christine G. Beregi
Pittsburgh, Pa.
Master of Arts in Pastoral Studies
Emily Caitlin Lyth
Kutztown, Pa.
Andrew Joseph Mason
Nashville, Tenn.
Dana R. Motte
McDonald, Pa.
Tommie Nell Taylor
Watson, Ark.
Master of Theological Studies
Katelyn E. Fisher
Homestead, Pa.
Karris May Jackson **
Pittsburgh, Pa.
Eliza McCarthy
Pittsburgh, Pa.
Margaret Owusu-Sekyereh
Pittsburgh, Pa.
Saw Khalay Saw
Yangon, Myanmar
Lauren Elizabeth Vaughn
Coraopolis, Pa.
Caitlin Nicole Zeiset
Pittsburgh, Pa.
Master of Divinity
Rebecca Ann Abbott
Pittsburgh, Pa.
John F. Balliet Jr.
Manns Choice, Pa.
Zachary R. Bohinski
North Huntingdon, Pa.
Glenn Michael Creamer
Sewickley, Pa.
Lauren E. Davis
Kenna, W.Va.
Kacy Joyce Howard
Pittsburgh, Pa.
Tae Bong Hur
Pittsburgh, Pa.
Rudeene Ashleigh Jackson * ***
Pittsburgh, Pa.
Rebecca M. Konegen
Pittsburgh, Pa.
Nathan Long
Akron, Ohio
Christin L. Moreland
Pittsburgh, Pa.
Erin Katharine Morey ****
Pittsburgh, Pa.
Amy L. Newell
Plum Borough, Pa.
Kathryn Grace Ophardt
Canton, Ohio
Kori Dawn Robbins
Anaconda, Mont.
Wesley Carl Smith
Pittsburgh, Pa.
Hunter Elizabeth Steinitz
Pittsburgh, Pa.
Doctor of Ministry
Kamal Elias Al-Rahil
Jacksonville, Fla.
Raising Christian Children, Building a Christian Family
Richard Paul Grendahl
Staunton, Va.
The Heavens Proclaim the Glory of God: Science as a Way of Seeking God
Lee David Kricher
Oakmont, Pa.
The Art of Seamless Pastoral Transition: A Guide for Church Leaders
John Foster Magnuson
Charlotte, N.C.
Dwelling in the Word and in the World: Missional Engagement through Storytelling
Robert E. Martin
Athens, Ohio
Food, Faith, and Film: Cultivating a Spirituality of Hospitality
Carolyn Fenner Moss
Volant, Pa.
Finding New Opportunities in Christian Community through the Use of Technology
Philomena Ofori-Nipaah
Fairgrove, Mich.
Sustaining a Prayer Life among Clergy and Congregational Leaders
* Joint Degree – Master of Social Work (University of Pittsburgh)
** Graduate Certificate in Urban Ministry
*** Church Planting Emphasis
**** Episcopal/Anglican Studies