The Ethical Leadership Toolkit
The Ethical Leadership Toolkit
Participants in the workshop will be introduced to tools that can be used in fostering morally anchored character, transformative acts of civility and justice-loving community.
The Ethical Leadership Toolkit is an integral part of the workshop's curriculum and training. It includes The Ethical Leadership Model™; Ways of Doing Ethics, The Ethical Decision-Making Model; Looking, Listening and Leaning; Remembering, Retelling and Reliving Our Stories; At the Intersection Where Worlds Collide; and Finding Your Moral Compass. These are all action-reflection tools discussed in the Ethical Leadership MOOC which can be made available to all participants who are interested in continuing this important path.
Workshop Leader
Walter E. Fluker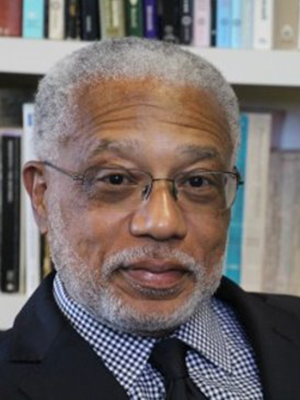 Walter Earl Fluker is the Martin Luther King, Jr. Professor of Ethical Leadership, the editor of the Howard Thurman Papers Project and the director of the Martin Luther King, Jr. Initiative for the Development of Ethical Leadership (MLK-IDEAL) at Boston University School of Theology. As part of the MLKIDEAL, Professor Fluker has developed a Massive Open Online Course (MOOC) entitled Ethical Leadership: Character, Civility and Community that initially launched in 2016. Since then more than 12,000 participants from all over the globe have engaged with the course, which explores theoretical and practical elements of ethical leadership through engagement with prominent leadership theorists and leaders in the areas of education, business, government, philanthropy, and global citizenship. He was founding executive director of the Andrew Young Center for Global Leadership Center and the Coca-Cola Professor of Leadership Studies at Morehouse College. Dr. Fluker is a featured consultant, speaker, lecturer, and workshop leader at foundations, businesses, corporations, colleges, universities, and governmental and religious institutions, nationally and globally.
Known as an expert in the theory and practice of ethical leadership, Fluker has served on numerous committees and boards, including the Urban League of Rochester, N.Y.; the National Selection Committee for U.S. News & World Report America's Best Leaders; and the Board of Liberal Education (the flagship quarterly for the Association of American Colleges and Universities). Dr. Fluker has served as a consultant and workshop leader for organizations as diverse as Democratic Leadership Council National Conversation, Goldman Sachs Global Leaders Program, Eastman Kodak, the Department of Education, the Department of State, the Boys and Girls Clubs of America, Historically Black Colleges and Universities, and the Georgia State Superintendents' Association.
His international experience includes serving as consultant to youth development initiatives in Sierra Leone, West Africa, and South Africa sponsored by the Ford Foundation and as a lecturer for the Martin Luther King, Jr. Center in Havana, Cuba. He has served as faculty for emerging global leadership at the Salzburg Global Seminar in Austria and the Global Friends Initiative in Hong Kong; emerging African leaders in the Johannesburg, South African City Council; lecturer for the U.S. Embassy Speaker/Specialist Program in South Africa, Nigeria, India, and China; Distinguished Lecturer to the International Human Rights Exchange Programme; visiting professor for the Graduate School of Business, University of Cape Town, South Africa; and has worked with the African Presidential Center at Boston University and the Transatlantic Roundtable on Religion and Race (Birbeck College, University of London and the University of Pretoria, South Africa).
His recent publications include a multi-volume series entitled The Papers of Howard Washington Thurman, published by University of South Carolina Press. The first four volumes include My People Need Me (2009), Christian, Who Calls Me Christian? (2012), The Bold Adventure: The Fellowship Church (2015), The Soundless Passion of a Single Mind (2017), and The Wider Ministry, January 1963—April 1981 (2019). He is also the editor of Educating Ethical Leaders for the Twenty-First Century (Cascade Books, 2013). Recent articles include "Plenty Good Room: Martin Luther King's Vision of the World House and the Ethical Question of Global Citizenship" in The Great World House in the Twenty-First Century: Reclaiming the Vision of Martin Luther King, Jr., edited by Vicki Crawford and Lewis V. Baldwin (University of Georgia Press, 2018); "Charlottesville, Civility and Contested Democratic Space", IMPACT, 7(2), Summer 2018, The Center for Interdisciplinary Teaching and Learning, Boston University http://sites.bu.edu/impact/previous-issues/impact-summer-2018/charlottesville-civility-and- contested-democratic-space/; "Now We Must Cross a Sea: Remarks on Transformational Leadership and the Civil Rights Movement," Boston University Law Review, 95(3), 2015, pp. 1225-1232; "Looking For Martin: Black Leadership in an Era of Contested Post-Racism and Post-Blackness," in The Domestication of Martin Luther King, Jr., edited by Lewis V. Baldwin and Rufus Burrows, Jr., (Cascade Books, 2013) and "Leaders Who Have Shaped U.S. Religious Dialogue: Howard Thurman" in Religious Leadership: A Reference Handbook, edited by Sharon Henderson Callahan, (Sage Publications, 2013). Dr. Fluker is also the author of Ethical Leadership: The Quest for Character, Civility and Community (Fortress Press, 2009). His most recent manuscript, The Ground Has Shifted: The Future of the Black Church in Post-Racial America, was published with New York University Press in 2016.
Fluker is recipient of major awards and grants from the Oprah Winfrey Foundation, National Endowment of the Humanities, the National Archives (National Historical Publications and Research Commission), the Lilly Endowment, the Henry Luce Foundation, The Ford Foundation, The Pew Charitable Trusts, the Coca-Cola Foundation, Goldman Sachs Foundation, J. P. Morgan Chase, Bank of America, The Zeist Foundation, and other charitable and philanthropic organizations. He is a 2016 recipient of a Louisville Institute Sabbatical Grant for Researchers and from the Boston University Center for the Humanities.
His prior academic experience includes professorial and administrative positions at Vanderbilt University, Harvard College, Dillard University, Colgate-Rochester Divinity School, and Morehouse College. He has served as visiting professor and scholar at Harvard Divinity School, The Graduate School of Business at the University of Cape Town in South Africa, Columbia Theological Seminary, Chicago Theological Seminary, and Princeton Theological Seminary. Ordained at Second Baptist Church, Evanston in 1980, he served as pastor of the historic St. John's Congregational Church in Springfield, Mass., and Dean of the Lawless Memorial Chapel at Dillard University in New Orleans, La.
He earned a Ph.D. in social ethics from Boston University, a master of divinity degree from Garrett-Evangelical Seminary, a bachelor's degree in philosophy and biblical studies from Trinity College; and received the Doctor of Humanities, Honoris Causa, Lees-McRae College, Banner Elk, N.C. He is married to Dr. Sharon Watson Fluker and has four children and six grandchildren.
Schedule
At the Intersections Where Worlds Collide: Creating Local Communities at the Intersections of Race, Faith, and Culture
Saturday, February 8, 2020
Pittsburgh Theological Seminary
8:30 a.m. Registration with light breakfast fare
9:00 a.m. Introductions - Spiraling into the Center
9:30 a.m .At the Intersection Where Worlds Collide / Which Way is North? Finding Moral Character
10:00 a.m. Break
10:15 a.m. Review Findings from Pre-Survey
11:00 a.m. Introduction to Ethical Leadership Toolkit (ELT) / Remembering, Retelling, and Reliving (RRR)
12:00 p.m. Working Lunch in Small Groups / Continue RRR
1:00 p.m. Small Groups Debrief within Plenary
2:00 p.m. Ways of Doing Ethics / Discerning, Deliberating, and Deciding at the Intersection
2:45 p.m. Break
3:00 p.m. Small Groups
3:45 p.m. Plenary Discussion and Group Presentations
4:45 p.m. Closing Ritual - Spiraling into the Center