* No longer accepting new applicants *
The Th.M. degree is designed for students who wish to enhance ministerial practice or prepare for further graduate study by advancing their capacity for academic research in a specialized area of theological inquiry.
Pittsburgh Theological Seminary offers the Th.M. degree because of our strong and historic commitment to the value of scholarship that glorifies God by serving the church.
Students design their own programs in consultation with their faculty advisor and typically complete the work in one academic year. See the ThM Handbook for additional information about this academic program.
In 2017, Theology Degrees ranked Pittsburgh Seminary's Th.M. program as the ninth most affordable Th.M. program across the country. It's a great program at a great value!
Th.M. Program Requirements
36 credit hours of graduate studies beyond the M.Div. degree as follows:

THM01 Research Skills Seminar (three credits)
THM Capstone Seminar (three credits, Term 3)
Thesis (nine hours, Terms 2 and 3)
Electives (21 hours)

These courses are planned with a faculty member in the field of specialty. They may include seminars organized especially for Th.M. students, M.Div. courses with advanced seminar components, and directed studies in the field of specialty.
Careers for Th.M. Grads
After completing the Th.M. degree, students often go on to additional graduate study or to teach. Some pursue the Th.M. for scholarly enrichment in the practice of ministry.
Applying to the Th.M. Program
Applicants for the Th.M. program must be able to undertake advanced theological study. In addition, they must have completed an M.Div. or a comparable graduate theological degree from an institution of higher education accredited by a U.S. agency recognized by the Council for Higher Education Accreditation or approved by a Canadian provincial quality assurance agency.
Th.M. Student Learning Outcomes
After completing the Th.M. degree, students will have
an ability to formulate appropriate research questions;
a capacity to use research methods and resources in the discipline;
the ability to demonstrate an advanced understanding of an issue within a specific theological discipline.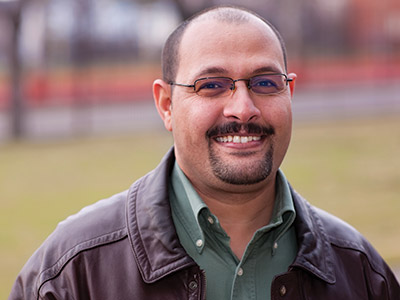 "As pastor of the Arabic Presbyterian Church of South Jersey, one of my goals is to help the persecuted Christian community in the Middle East. My church helps our fellow Christians across the oceans by raising awareness and money, and by establishing partnerships between their congregations and PC(USA) congregations in this country. PTS has been a great encouragement to me and my ministry both spiritually and academically." - Mouris Yousef '07
The Fight for . . . Not Against
December 18, 2017
In the midst of polarizing political and denominational battles, the word "fight" may turn many of you away from reading this. However, the fight I'm describing has nothing to do with political rhetoric and is far removed from congregational committees and denominational commissions. It is a fight that no one will know I am in by looking at the smile on my face or by hearing the sermons that I preach. I am fighting for the life of our unborn daughter who was recently diagnosed with a critical congenital heart defect. I am not fighting the health care system nor am I at odds with insurance companies. I do not [...]
The post The Fight for . . . Not Against appeared first on Pittsburgh Theological Seminary.
Did We Really Do Things Better Back Then?
November 17, 2017
On the Field I got to the soccer field five minutes before the end of practice, in time to hear the closing strains of a plaid-skirted mother's rant to her friend about the way they teach math these days: "So I said, why are you beginning with centimeters? How hard is it to carry the ones?" (I'm just reporting what I heard, folks, not trying to make sense of it.) At first annoyed—get over it—I then dropped my stone and let it roll away, for I'll admit it: I do the same thing. They did everything better when we were young. In the Classroom Take teaching a kid to play the [...]
The post Did We Really Do Things Better Back Then? appeared first on Pittsburgh Theological Seminary.