Wise Women and Spirituality
Community and Conversations Series
DATES
Online Oct. 22 and Nov. 19, 2020, Jan. 21, Feb. 18, March 18, and April 15, 2021, 7:30-9:00 p.m. ET
OVERVIEW
Howard Thurman reminds us, "How good it is to center down!" – reflecting on the hunger deep in our spirits for the "still moment and the resting lull," the space where balance can emerge. But in these unprecedented times, the tasks pile on – the care for home, work, and others – while at the same time, we don't have access to the relationships and resources that ground us. The possibility for respite and retreat seems so far away. Indeed, we cannot go out, but perhaps we can follow Thurman's lead and go in, deepening our interior lives and finding the presence of the life-giving Spirit right where we are, finding the sacred in the ordinary.
If this speaks to your experience, join us for our Community and Conversations series! Spend six monthly evenings with wise women who have found ways to anchor and sustain themselves spiritually in the midst of these times. Think of each session as a "micro-retreat," a time set apart, including conversation, practices, community, and an experience of the gifts each of these women will bring. Registrants will be provided with materials to help connect the series together and will be encouraged to form cohorts of friends to experience the sessions with each other.
QUESTIONS
Call Continuing Education at 412-924-1345 or e-mail ConEd@pts.edu.
Presenters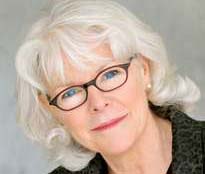 Barbara Brown Taylor is a best-selling author, teacher, and Episcopal priest. Her first memoir, Leaving Church, won an Author of the Year award from the Georgia Writers Association in 2006. Her next two books, An Altar in the World (2010) and Learning to Walk in the Dark (2015), earned places on The New York Times bestseller list. She has served on the faculties of Piedmont College, Columbia Theological Seminary, Candler School of Theology at Emory University, McAfee School of Theology at Mercer University, and the Certificate in Theological Studies program at Arrendale State Prison for Women in Alto, Ga. In 2014 TIME included her on its annual list of Most Influential People; in 2015 she was named Georgia Woman of the Year; in 2016 she received the President's Medal at the Chautauqua Institution in New York. Her 14th book, Holy Envy, was released by HarperOne in 2019.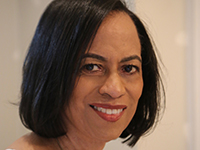 Lerita Coleman Brown is a spiritual director/companion, writer, retreat leader, and speaker. She earned her B.A. from the University of California at Santa Cruz and Ph.D. from Harvard University and recently retired as the Ayşe I. Carden Distinguished Professor Emerita of Psychology at Agnes Scott College. A graduate of the Shalem Institute for Spiritual Formation, Lerita promotes contemplative spirituality, the living wisdom of Howard Thurman, and uncovering the peace and joy in one's heart on her website, peaceforhearts.com. and other social media platforms. Her chapter, "Dissecting Racism: Healing Minds, Cultivating Spirits," is included in the edited volume, Living into God's Dream: Dismantling Racism in America. Dr. Brown appears in the documentary Back Against the Wall: The Howard Thurman Story available for streaming on PBS.org. Her book, When the Heart Speaks, Listen—Discovering Inner Wisdom, was published in 2019.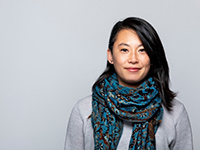 Mihee Kim-Kort is an ordained Presbyterian (PCUSA) minister with degrees in divinity and theology from Princeton Theological Seminary and English Literature and Religious Studies from the University of Colorado in beautiful Boulder. She is a Ph.D. student in religious studies at Indiana University. Currently, she juggles various jobs including being a wife, co-pastoring a Presbyterian church in Annapolis, Md., with her husband, raising three children, speaking, and writing, struggling with being an Enneagram 7, and liking too many posts on Facebook and admiring people on Twitter and Instagram. Born in Seoul, Korea, she and her parents immigrated here shortly after her birth. Settling in Colorado, she was baptized in a Methodist church before her family joined the local Korean Presbyterian (PCUSA) church. It was here that she learned the faith from an African American, who was a respected elder and teacher in the church, and from a little old lady that was the wife of the former pastor of the white Presbyterian congregation that shared the building with the church.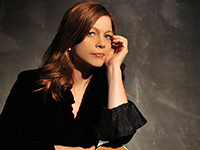 Carrie Newcomer is a performer, recording artist, and educator, described as a "prairie mystic" by the Boston Globe and one who "asks all the right questions" by Rolling Stone. Her song "I Should've Known Better" appeared on Nickel Creek's Grammy award-winning gold-certified album "This Side", and she earned a regional Emmy for the PBS special "An Evening with Carrie Newcomer." Carrie is the 2019 recipient of the Shalem Institute Contemplative Voices Award. Recent media appearances include PBS's Religion and Ethics and Krista Tippett's On Being. In the fall of 2009 and 2011 Newcomer was a cultural ambassador to India, invited by the American Embassy of India, resulting in her interfaith collaborative benefit album "Everything is Everywhere" with world master of the Indian Sarod, Amjad Ali Khan and his sons, Ayan and Amaan. In 2012 and 2013 Carrie traveled to Kenya and the Middle East performing in schools, spiritual communities, and AIDS hospitals. Carrie has 17 nationally released albums on Available Light and Rounder Records, including "The Point of Arrival," "The Beautiful Not Yet," "A Permeable Life," and "Everything is Everywhere." Newcomer has also released two companion books of poetry and essays, A Permeable Life: Poems and Essays and The Beautiful Not Yet: Poems, Essays, and Lyrics. Newcomer's first theatrical production, "Betty's Diner: The Musical," was performed at a sold out run at Purdue University in 2015 and is now available to interested theaters, universities, and spiritual communities. In 2016 Carrie presented the Goshen College commencement address and was awarded an honorary degree in music for social change. She regularly works with Parker J. Palmer in live programs, including "Healing the Heart of Democracy: A Gathering of Spirits for the Common Good" and "What We Need is Here: Hope, Hard Times, and Human Possibility." Newcomer and Palmer also are actively collaborating on "The Growing Edge," a website, podcast, and retreat. Spirituality and Health Magazine named "The Growing Edge" collaboration as one of the top 10 spiritual leaders and programs for the next 20 years. Three of Newcomer's songs are included in Palmer's newest book. Other special collaborations include presentations with neuroscientist Jill Bolte Taylor, author Rabbi Sandy Sasso, and environmental author Scott Russell Sanders. Carrie lives in the woods of southern Indiana with her husband and two shaggy dogs.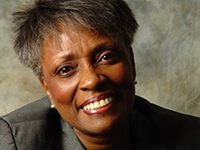 Joan Prentice received her master of divinity (M.Div.) in 2005 and her doctor of ministry (D.Min.) in 2011 Pittsburgh Seminary, but she began serving as staff pastor to new disciples at Pittsburgh's Mount Ararat Baptist Church in 2000. An ordained American Baptist minister, at Mt. Ararat she spent 15 years focusing on pastoral care and spiritual counseling for new members, as well as curriculum development and volunteer training. But while at Mr. Ararat, Joan also took on another leadership role—as executive director of The Ephesus Project, a Pittsburgh nonprofit to which she now devotes her full-time professional attention. The Ephesus Project is dedicated to providing a distinctively Christian environment of spiritual and educational excellence where clergy, laypersons, community leaders, and seekers can unite in a learning atmosphere to transform lives and communities. Established in 2013, The Ephesus Project—self-described as "Traditional Church in an Untraditional Way"—is a primer for organic and community ministry in a postmodern context. Joan celebrates that this "Church without Walls" holds true to the tenets of the Christian faith but in unique and creative ways of ministry. Joan's vision is for "a healed community that is aware of its power and that exists in relationship with God and one another for the mission of the gospel of Christ in action." To make that vision a reality, the Project invites churches, other nonprofits, faith-based organizations, and individuals to participate in and benefit from the various ministries it carries out. Those ministries include New Paradigm Leadership Training, Grace Space Gatherings, Open Word Bible Study and Conversation, pastoral and leadership retreats and focus symposiums, and Mothers United in Christ—a group for women who are called to intercession, family ministry, and outreach.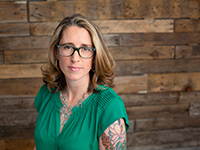 Ashley Rossi currently serves as the Associate Pastor of Carmel Presbyterian Church in Glenside, Pa. In that role, she is responsible for education, youth ministry, and mission. Rev. Rossi is also serving as the Moderator of the Philadelphia Presbytery, where she has worked closely with Presbytery leadership on issues that have framed the local and national landscape, such as racism and economic disparity, reflecting on how the Church is to respond at a time such as this. Ordained in 2014 in the Evangelical Lutheran Church in America, Rev. Rossi "found her home" with the PC(USA) soon after she began her service and ministry within the Philadelphia Presbytery. Prior to being ordained, Rev. Rossi worked as a Certified Public Accountant and still appreciates a detailed pie chart or a complex Excel sheet. Rev. Rossi currently lives in Glenside with her husband (Jim), three human children (JD, Sonny, and Maggie), and a pit bull (Stella).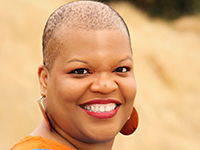 Chanequa Walker-Barnes is a clinical psychologist, public theologian, and ecumenical minister whose work focuses upon healing the legacies of racial and gender oppression. A professor of practical theology at Mercer University, Dr. Chanequa is the author of I Bring the Voices of My People: A Womanist Vision for Racial Reconciliation, Too Heavy a Yoke: Black Women and the Burden of Strength, as well as nearly two dozen journal articles and book chapters in theology and psychology. Chanequa began her career as a clinical psychologist, earning degrees from Emory University (B.A., psychology and African-American/African studies) and the University of Miami (M.S. and Ph.D., clinical child/family psychology). In her early career as a research psychologist, she focused on ethnic minority families, African American adolescent development, and health disparities. Upon being called to ministry, she left her tenure-track faculty position to attend seminary, earning her M.Div. from Duke University, and broadening her focus to racial and gender justice issues. She blends her unique background in behavioral health, theology, and race/gender studies to advocate for the healing and justice in and beyond the Christian church. Beyond the classroom, Chanequa spends most of her professional energy writing and ministering to clergy and faith-based activists, and generally caping for women of color engaged in Christian social justice activism. Her faith has been shaped by Methodist, Baptist, and evangelical social justice communities as well as by Buddhism and Islam. She was ordained by an independent fellowship that holds incarnational theology, community engagement, social justice, and prophetic witness as its core values.
Schedule
All sessions will be held from 7:30-9:00 p.m. ET on the specified dates. We are exploring the possibility of having the sessions recorded and available at a later time for those who are registered.
Oct. 22, 2020
The Sacred Rhythm and Dance of Life with Joan Prentice
"Foli" is a word used by Malinke tribes for rhythm. It means much more than drumming, dancing, or sound. Rhythm is found in every part of daily life. We want to pay attention to the rhythm of our lives. What is the space and the pattern of our lives that regulate our living, especially in this moment of pandemic, chaos, uncertainty, and pain? Yet, there is a sacred rhythm and dance into which we are invited by the triune God of Grace to experience the syncopated and dissonant, the regular and harmonious events of our lives.
Nov. 19, 2020
Spirituality of the Ordinary with Carrie Newcomer
The world is made of water and dust, ordinary physical things, but all of them are filled with miracle, Light and considerable magic. Viewing the world with this frame, small things take on a luminous quality and daily actions become a sacrament. There is no need to wait for a miracle as proof - the miracle we need is already here. Carrie will weave her music into her presentation to further illustrate how we may discover the extraordinary within the ordinary.
Jan. 21, 2021
Rooted: A Spirituality of Place with Barbara Brown Taylor
Making contact with humus (whether it is country acreage or a pot garden on a windowsill) is balm for harried souls—a way of tapping into the dust from which we came and to which we shall go. There is mortality in this notion, but that is also—literally—grounding.
Feb. 18, 2021
Far Away/So Close: Connection in COVID Times with Ashley Rossi
March 18, 2021
Recognize Everyone is a Holy Child of God with Lerita Coleman Brown
Are you aware of your spiritual self? Howard Thurman (1899-1981), African American mystic, theologian, educator, and sacred activist was taught from an early age that he was a holy child of God. Cultivating a spiritual self served to inoculate him against the oppressive and racist atmosphere of the early 1900s and beyond. Howard Thurman observed and wrote about, among many spiritual issues, the connections among living from a spiritual self anchored in God, and high self-esteem, achievement, and self-actualization.
April 15, 2021
Making Space: Reclaiming Our Bodies, Our Lives, and Our Identities with Chanequa Walker-Barnes
The awakening usually begins when we realize that we have, perhaps again, given too much of ourselves away; when we realize that we have yielded our bodies, our lives, and our identities to other people's agendas. Reclaiming ourselves is often a lifelong process. And it almost always requires learning how to make space for ourselves.
May 6, 2021
Mother-Shepherd, Mother Tongue: Embodying and Speaking Hope For God's Kingdom with Mihee Kim-Kort
Vocation is an evergreen topic, but one that can often be expressed in narrow and limiting ways. In this time, when we need voices and lives to express those urgent messages of hope that "dismantle the dominant consciousness" [1] of cynicism, mistrust, and suspicion of other persons, we need images and metaphors that ground us in who we are, that is, as the beloved creation of God, and ones who are called to be a witness to the alternative communities of integrity and intimacy, ones that give us a glimpse of a future that we are called to bring to bear in the here and now.
[1] a phrase from Walter Bruggeman's The Prophetic Imagination (1978), a book dedicated to "a growing number of my sisters who at long last are finding acceptance in ordained ministry...In many ways these sisters have permitted me to see what I otherwise might have missed," (xxiv).
Registration

Registration for this event is required but is free to all participants. We do not want anyone to be unable to participate in this program, however, if you are able to submit a registration fee, there are suggested amounts of $25, $50, and $100 available upon checkout. We will use all collected funds to underwrite future programs like this.
TO REGISTER FOR:
FREE, submit the promotion code WW100 at checkout.
$25, submit the promotion code WW25 at checkout.
$50, submit the promotion code WW50 at checkout.
$100, enter no code at checkout.
We will E-mail details about logging into the webinar for each "retreat" session a few days before the program. The access information will be the same for all six sessions. Be sure to mark your calendar!