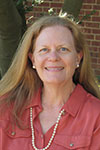 Mary (Shan) O'Shan Overton is the founding director of the Center for Writing and Learning Support. She came to PTS in 2017 after teaching composition at Volunteer State Community College and writing grants for American Baptist College, both in the Nashville area. While completing her doctorate at Boston College, she initiated and led a writing center for the School of Theology and Ministry, taught graduate-level writing courses and workshops in the School of Theology and Ministry and in the Lynch School of Education, led workshops on writing pedagogy for faculty, and served as the assistant chaplain (lay) to the Episcopal Chaplaincy of Boston College. Her dissertation was titled "Teaching Writing for Transformation in and of Theological Education: A Pedagogy for the Construction of Voice(s) in Practical Theology." Dr. Overton has also taught academic writing at Vanderbilt Divinity School, Middle Tennessee State University, Southern New Hampshire University, and Bay Path University and has led theological writing workshops and seminars in churches and community groups in the U.S. and abroad. In addition to her role as Director of the Writing Center, Dr. Overton leads the Doctor of Ministry in Creative Writing and Public Theology as the cohort's Faculty Mentor and serves as the host of BookTalks, a monthly conversation with theological writers produced collaboratively by the Writing Center and the Barbour Library. Dr. Overton writes essays for academic journals, textbooks, and pastoral resource books; serves on the Editorial Board for the American Academy of Religion's Reading Religion book review website; co-leads the national Theological Writing Consortium; and writes and publishes poetry and creative non-fiction in her spare time.
Ph.D., Boston College / Theology and Education
M.Div., Vanderbilt Divinity School / Emphasis Biblical Studies and Theological Writing
M.A., Middle Tennessee State University /English
B.A., summa cum laude, University of Tennessee, Knoxville / Religious Studies
Contact: | 412-924-1454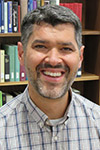 Dan Frayer-Griggs '08 is a writing specialist in the Center for Writing and Learning Support and adjunct professor of Bible at PTS. He has extensive experience teaching both biblical studies and English composition courses and is available to assist students in all stages of the writing process. Prior to joining the staff at PTS, Dan served as visiting assistant professor of theology at Duquesne University.
Ph.D., Durham University / New Testament and Related Literature
M.A., Pittsburgh Theological Seminary / Emphasis in Biblical Studies and Languages
M.A., McNeese State University / English Literature
M.Ed., Aquinas College / Secondary Education
B.A., Hope College / English and Religion
Contact: dfrayergriggs@pts.edu