Join the Next Eastern Christian Cohort
The next cohort is anticipated to begin in August 2024.
The Eastern Christian Focus explores the wisdom and pastoral traditions of the Eastern Orthodox tradition while also attending to the challenges and practices of parish ministry. Combining practical courses in homiletics and biblical interpretation with deep learning about ethical tradition, canonical tradition, and Christology in the Orthodox tradition, this partnership between the Antiochian House of Studies and Pittsburgh Theological Seminary brings the riches of Orthodoxy and of Protestantism into conversation with one another. This cohort is a hybrid offering with courses occurring online, at Pittsburgh Theological Seminary, and at the Antiochian Village in Bolivar, Pa.
What do Eastern Christian focus students study?
Research Methods / A Protestant Encounter with Orthodoxy
Christian Ethics and Morality
The Orthodox Canonical Tradition: Sources, Application, and Contemporary Problems
Christology and Life after Death
Homiletics
Biblical Seminar
Orthodoxy and Ethnic / National Identity
The Lectionary and Orthodoxy
The Orthodox Ways of Knowing: Encounter, Expression, and Methodology
When and where do the classes meet?
D.Min. classes are held at the PTS campus in Pittsburgh, Pa., and the Antiochian Village in Bolivar, Pa., during two-week blocks of time. Courses in the Eastern Christian Focus begin in June 2024.
Who will teach in this DMin cohort?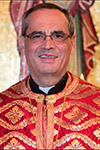 The Very Rev. Dr. Michel Elias Najim is the president of Antiochian House of Studies, professor of patristics and church history at AHOS, and director of Saint Maximus the Confessor, former dean of St. Nicholas Cathedral in Los Angeles, Calif. Fr. Michel was born and raised in Beirut, Lebanon, and joined Balamand Ecclesiastical School in 1962 under the tutelage of Patriarch Ignatius IV and graduated from St. John of Damascus Institute of Theology in 1974. He obtained his M.Th.(1976), and his doctoral degree in theology (1985) from the University of Thessalonica, where he studied under Fr. John Romanides and Prof. Nikos Matsoukas, while serving as dean of the School of Theology in Balamand. After moving to the U.S. with his family, he worked with the newly converted Evangelical Orthodox at St. Athanasius Academy from 1987 to 1996. Unassuming in his demeanor, Fr. Michel is a bearer of the authentic Antiochian heritage, a deeply dedicated churchman, and a scholar. He is personally acquainted with many spiritual and ecclesiastical figures. Throughout his ministry, Fr. Michel has taught thousands of clergy including hierarchs, lay theologians, and professors.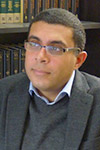 Dr. Emmanuel Gergis is co-founder and chief executive officer of Agora University and executive vice president of the Antiochian House of Studies. Prior to his academic career, he worked for two decades as vice president of technology and chief technology officer in government and private sectors where he successfully led multi-million-dollar projects. He holds a master of arts degree in applied Orthodox theology from the University of Balamand in Lebanon. He also holds a master of letters degree in divinity from the University of St. Andrews in Scotland. Emmanuel completed his doctorate in systematic and historical theology from the University of Aberdeen in Scotland where he focused on Coptic epistemology, the unitary reality of Christ, and the theology of T. F. Torrance. He is an author, translator, and lecturer on contemporary Patristic topics including Orthodox systematic theology, theological anthropology, Trinitarian theology and personhood, theological realism, and Coptic Christianity.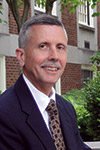 The Rev. Dr. John P. Burgess has taught at Pittsburgh Theological Seminary since 1998. Previously he was professor and chaplain at Doane College and associate for theology in the Office of Theology and Worship, Presbyterian Church (U.S.A.). He was awarded his B.A. from Colorado College, his M.Div. from McCormick Theological Seminary, and his Ph.D. in Christian theology from the University of Chicago. An ordained Presbyterian minister, Burgess has served several congregations part time. He is the author of numerous books. Burgess' professional memberships include the American Academy of Religion, the Society of Christian Ethics, and the American Theological Society. He has served his denomination as a member of the Presbyteries' Cooperative Committee on Examinations and the Re-forming Ministry Initiative (Office of Theology and Worship) and as a faculty mentor for the Company of New Pastors. Burgess was a Fulbright Scholar to Russia in 2011 and again in 2018-2019, a Luce Fellow in Theology for 2011-2012, and a research fellow at the Center of Theological Inquiry in 2014-2015. These awards have supported his current research on the Russian Orthodox Church in post-communist Russia. Burgess is married and has three grown daughters, who are also his theological teachers.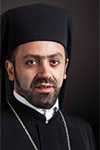 The Right Rev. Archimandrite Fadi Rabbat is professor, COO, and dean of the Antiochian House of Studies. In relation with the Archdiocese, he coordinates several committees and centres. He earned his bachelor of arts in philosophy from Beit Meri Official Secondary School, studied law at Holy Spirit University - USEK - Lebanon and in France, eventually earning his Ph.D. from Pierre Couvrat Doctoral School of Poitiers University. Archimandrite Fadi later studied canonical law and earned a Ph.D. from the Institute of Canonical Law of Strasbourg University in France. He is regarded as a prominent scholar, having authored numerous articles that have been published in Arabic, French, Spanish, and English, including two of his doctoral dissertations entitled "Le Juge et la preuve dans le contentieux administratif libanais et Français" (2014) and "L'Eglise orthodoxe d'Antioche, le mariage et le mariage mixte. Histoire, réalité et perspectives" (2016). He is currently completing his dissertation in the field of Orthodox spirituality. In 2009, Archimandrite Fadi was ordained to the diaconate. From 2009 to 2011 he worked as judge of the ecclesiastical court and Chancellor of the Archdiocese of Tyro and Sidon – Lebanon – and was founder and dean of the faculty of Bible sciences at the University Rafael Ayau in Guatemala. In 2018 he moved to the U.S. and became the personal assistant to Metropolitan Joseph (Zahlaoui – Archbishop of New York and Metropolitan of All North America). And since 2019, he has been serving as pastor at St. George Antiochian Orthodox Church, El Paso, Texas.