Graduate Certificate in Church Planting and Revitalization
The Graduate Certificate in Church Planting and Revitalization forms pioneer leaders who listen to the Holy Spirit and to their communities, who convene and lead teams in discerning God's work, and who maintain individual and community practices to renew their souls enabling deeper discernment in their own life and their community's life and calling.
Accompanied by a cohort learning community and coached by experienced missional leaders, students in the Graduate Certificate in Church Planting and Revitalization learn from both academics and practitioners. Through five hybrid courses, concurrent fieldwork, a coaching relationship, and an integrative capstone project, students complete 12 semester (18 term) hours of coursework for this certificate.
Classes begin in June and intensives take place over the course of 15 months, including completion and presentation of students' final capstone project. Our hybrid online and intensive classes allow leaders to set apart time to grow in missional and intellectual formation while staying rooted in their context. Applications are now being accepted!
How Does the Certificate Program Work?
This church planting certificate program is designed for practitioners who are actively engaged in (or contemplating the launch of) a new worshiping community or serving a church undergoing transformation. The program forms and equips non-ordained leaders as well as ordained pastors who sense a calling to revitalizing community anchor churches or planting contextually-based church communities.
Because the work we are called to as the church is widely varied, this program is designed for leaders with a variety of educational backgrounds: Applicants with bachelor's degrees will find the certificate provides specialized theological education and formation in an accessible format that will enrich their ministries and serve as an entry-point to a master's degree program should they seek it. Pastors who already have master's degrees in divinity, theology, or others will find that the certificate offers a distinctly integrative and missional approach to continued formation.
Through five hybrid courses, concurrent field work, a coaching relationship, and an integrative capstone project, students must complete 18 term hours of accredited, graduate level coursework for this certificate. The church planting certificate program begins in June and on-campus intensives take place quarterly for 15 months, including completion and presentation of the students' capstone projects.
Students who successfully complete the Church Planting and Revitalization Certificate will be granted 12 semester hours of credits (equivalent to 18 term hours) that can be applied to the Master of Divinity, Master of Pastoral Studies, or Master of Theological Studies degrees. This advanced standing will count toward the required CS 110 Contextual Analysis and MI 210 Missional Leadership courses and two additional elective credits in the master's program.
Application Instructions
For non-degree students, the admissions process for this graduate certificate follows normal admissions procedures, with the applicant's personal statement taking the form of a brief essay describing the applicant's current ministry context and articulating the applicant's sense of call to participate in church revitalization or the formation of new Christian communities. We're currently accepting applications for the 2020-2021 cohort. Priority admission is Jan. 10, 2020, and final admission is March 27, 2020.
Learn more information on how to apply online.
Current Certificate Program Schedule 2018-2019
Listening and Leading: Spiritual Formation for Missional Discernment
June 6-9, 2018, Pittsburgh
Believing that God calls, gifts, and sends us into God's world, Listening and Leading will introduce students to practices of personal and communal discernment regarding issues of vocation and missional ministry. The course will explore questions of vocation, discernment, and spiritual practices in a retreat-like setting.
Mission Shaped Church
Sept. 12-15, 2018, Minneapolis
Mission is about God. This course explores the missional dimensions of Scripture, theology, and ecclesiology in order to cultivate missional imagination in students so they may recognize and join in God's activity in new church development and revitalization.
Cultivating Christian Community
Jan. 16-19, 2019, San Francisco
God's mission gathers people into one body, creating fellowship where it did not exist and renewing existing communities. This course will explore practices related to studying and understanding a neighborhood context, developing shared spiritual practices, and discerning the mission of God in a particular context.
Missional Leadership
April 24-27, 2019, Pittsburgh
How does the mission of God shape leadership practice and formation? Drawing upon theories of sensemaking and adaptive leadership, this course will develop a spirituality for and a vision of faithful missional leadership as the cultivation of certain postures through intentional spiritual practice.
Capstone Project and Coaching
Sept. 17-19, 2019, Pittsburgh
With attentiveness to how God has called, inspired, and guided the formation of students in the program and with guidance from the coach, each student will create a particular project unique to the student's context which integrates the different elements of the academic program. The project will be written up as an integrative essay and presented to the cohort.
Certificate Program Schedule 2019-2020
Listening and Leading: Spiritual Formation for Missional Discernment
June 5-8, 2019, Pittsburgh
Mission Shaped Church
Sept. 18-21, 2019, Pittsburgh
Cultivating Christian Community
Jan. 22-25, 2020, San Francisco
Missional Leadership
April 15-18, 2020, TBD
Capstone Project and Coaching
Sept. 22-24, 2020, Pittsburgh
Cost and Financial Aid
The total cost of the CPR certificate program is $5,472, including tuition and fees. Aware of the economic realities of many church planting settings, and to further Pittsburgh Seminary's mission to equip leaders in this particular area of study, accepted applicants for the 2019-2020 cohort will be evaluated for tuition discounts. Based on criteria including vocational clarity, capacity for theological analysis, and prior experience, offers for admission may include the award of a tuition discount ($4,472 off the total cost of $5,472, for a net cost of $1,000) or a partial discount ($2,236 off the total cost of $5,472, for a net cost of $3,236). If you are interested in being evaluated for the discount, please note that in your application materials.
What Other Leaders Are Saying About The Church Planting Certificate Program
"Surprising new expressions of church are springing up all around our country and throughout the world. There is a vast and deep shift in church culture going on today in response to the changes in contemporary society. Author Alan Roxburgh warns that, '. . . the leadership models currently shaping the church are inadequate to forming a missional church.' To put it another way, church leaders will need a new skill set to lead a church that is outward-focused and community-engaged, that is leaving behind buildings and program. The Graduate Certificate in Church Planting and Revitalization is not just a rearrangement of deck chairs on a sinking titanic but a fresh way to engage with a transforming Holy Spirit that longs to bring renewal to all lives and congregations, new and old. This is an opportunity that is sorely needed by the whole church and will set Pittsburgh Theological Seminary apart as an institution that has the courage to respond to new opportunities for the Church of Jesus Christ."

– Vera White, Former National Coordinator for 1001 New Worshiping Communities, PCUSA

"I'm excited about this new certificate being offered by Pittsburgh Theological Seminary, because it is theologically-grounded, practice-oriented with a missional spirituality. It will help you to re-imagine what it means to be the church in the local by learning to discern God's transformative work in your life and the life of your neighborhood."

– JR Woodward, National Director, V3 Church Planting Movement, Author of Creating a Missional Culture and The Church as Movement

"In an era where fewer and fewer people are drawn to church, the people of God must follow Christ into the complex diversity of our post Christian society. To move wisely and effectively into culture as bearers of God's good news, however, the body of Christ must become adept at spiritual discernment, missionary engagement, and communally 'practice-ing' a Jesus way of life. PTS has designed a pithy certificate program aimed at activating these primary skills in the lives of pioneering leaders, pastors, and church planters! The learning experience is delivered through personalized mentoring, four short learning intensives held on-site, and an online hybrid format that allows participants to interact over core material as they minister in their unique settings. I highly recommend this program either as a stand-alone training opportunity or as an accredited complement to PTS's other degree programs."

Daniel Steigerwald, Missional Church Planting Coach, Trainer, Educator, Writer, Cascadia Advancement Team Leader (www.christianassociates.org), Adjunct (www.georgefox.edu), Hub Director (www.forgePDX.org), Lead Coach (www.bridgesus.org)
Pittsburgh Theological Seminary also offers an M.Div. with a Church Planting Emphasis as a part of the Church Planting Initiative.
Graduate Certificate in Church Planting and Revitalization Student Learning Outcomes
Outcomes
Develop, describe, and make use of a theologically-informed, contextually-aware, mission-shaped vision for ministry.
Form a community in the student's ministry context which is rooted in Christian practices and leads the community in spiritual discernment.
Engage in practices that support ongoing vocational discernment and articulate a deepening sense of call.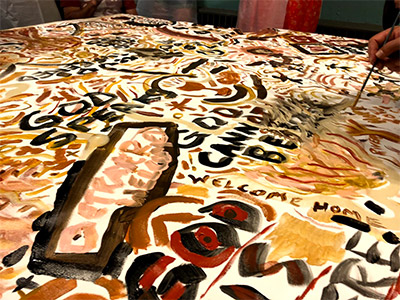 Planting a Church is Whole Body Work
November 30, 2018
The world seems to be increasingly comfortable with most of our embodied lives being reduced to the digital, and for some things that is ... READ MORE
Seeing God in the World through Short-term Mission
September 18, 2017
In the fall of 2014, my wife, TJ, encouraged me to look into going on a mission trip through Pittsburgh Seminary's World Mission Initiative. ... READ MORE