Graduate Certificate in Adaptive and Innovative Ministry
The Graduate Certificate in Adaptive and Innovative Ministry forms innovating leaders who listen to the Holy Spirit and to their communities, who convene and lead teams in discerning God's work, and who maintain individual and community practices to renew their souls enabling deeper discernment in their own life and their community's life and calling.
Accompanied by a cohort learning community and coached by experienced missional leaders, students in the Graduate Certificate in Adaptive and Innoative Minstry learn from both academics and practitioners. Through five hybrid courses, concurrent fieldwork, a coaching relationship, and an integrative capstone project, students complete 12 semester (18 term) hours of coursework for this certificate.
Classes begin in June and intensives take place over the course of 15 months, including completion and presentation of students' final capstone project. Our hybrid online and intensive classes allow leaders to set apart time to grow in missional and intellectual formation while staying rooted in their context. Applications are now being accepted!
Please note: the Graduate Certificate in Adaptive and Innovative Ministry was previously known as the Graduate Certificate in Church Planting and Revitalization.
How Does the Certificate Program Work?
This adaptive and innovative ministry certificate program is designed for practitioners who are actively engaged in (or contemplating the launch of) a new worshiping community or serving a church undergoing transformation. The program forms and equips non-ordained leaders as well as ordained pastors who sense a calling to revitalizing community anchor churches or planting contextually-based church communities.
Because the work we are called to as the church is widely varied, this program is designed for leaders with a variety of educational backgrounds: Applicants with bachelor's degrees will find the certificate provides specialized theological education and formation in an accessible format that will enrich their ministries and serve as an entry-point to a master's degree program should they seek it. Pastors who already have master's degrees in divinity, theology, or others will find that the certificate offers a distinctly integrative and missional approach to continued formation.
Through five hybrid courses, concurrent field work, a coaching relationship, and an integrative capstone project, students must complete 18 term hours of accredited, graduate level coursework for this certificate. The adaptive and innovative certificate program begins in June and on-campus intensives take place quarterly for 15 months, including completion and presentation of the students' capstone projects.
Students who successfully complete the Adaptive and Innovative Certificate will be granted 12 semester hours of credits (equivalent to 18 term hours) that can be applied to the master of divinity, master of pastoral studies, or master of theological studies degrees. This advanced standing will count toward the required CS 110 Contextual Analysis and MI 210 Missional Leadership courses and two additional elective credits in the master's program.
Application Instructions
For non-degree students, the admissions process for this graduate certificate follows normal admissions procedures, with the applicant's personal statement taking the form of a brief essay describing the applicant's current ministry context and articulating the applicant's sense of call to participate in church revitalization or the formation of new Christian communities. We're currently accepting applications for the 2023-2024 cohort. Please e-mail application requirements or application-related questions to AIMadmissions@pts.edu.
Learn more information on how to apply online.
Current Certificate Program Updated Schedule 2021-2022
Listening and Leading: Spiritual Formation for Missional Discernment
Sept. 22-25, 2021, Pittsburgh
Believing that God calls, gifts, and sends us into God's world, Listening and Leading will introduce students to practices of personal and communal discernment regarding issues of vocation and missional ministry. The course will explore questions of vocation, discernment, and spiritual practices in a retreat-like setting.
Mission Shaped Church
Jan. 19-22, 2022, Pittsburgh
Mission is about God. This course explores the missional dimensions of Scripture, theology, and ecclesiology in order to cultivate missional imagination in students so they may recognize and join in God's activity in new church development and revitalization.
Cultivating Christian Community
April 27-30, 2022, San Francisco
God's mission gathers people into one body, creating fellowship where it did not exist and renewing existing communities. This course will explore practices related to studying and understanding a neighborhood context, developing shared spiritual practices, and discerning the mission of God in a particular context.
Missional Leadership
Sept. 21-24, 2022, Chicago
How does the mission of God shape leadership practice and formation? Drawing upon theories of sensemaking and adaptive leadership, this course will develop a spirituality for and a vision of faithful missional leadership as the cultivation of certain postures through intentional spiritual practice.
Capstone Project and Coaching
Nov. 15-17, 2022, Pittsburgh
With attentiveness to how God has called, inspired, and guided the formation of students in the program and with guidance from the coach, each student will create a particular project unique to the student's context which integrates the different elements of the academic program. The project will be written up as an integrative essay and presented to the cohort.
Cost and Financial Aid
The total cost of the AIM certificate program is $5,640, including tuition and fees. Aware of the economic realities of many church planting settings, and to further Pittsburgh Seminary's mission to equip leaders in this particular area of study, both need and merit-based financial aid awards are available for the 2022-2023 cohort.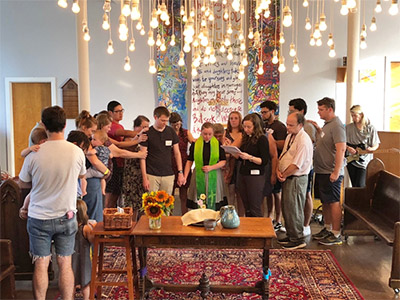 The Rev. Hannah Quick is the pastor at Okra Abbey in New Orleans, La. Okra Abbey is part community garden, part community sacred space, and part food dessert disruptor. They grow food and host meals, deliver vegetables, and welcome folks to walk the labyrinth. Hannah guides the process, hosts the meals, and serves as pastor to all those who share the space.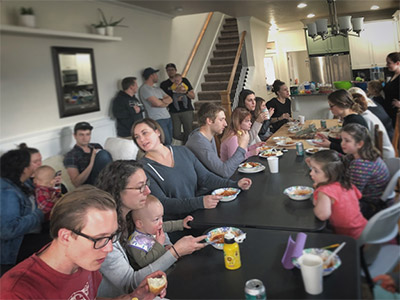 Cory Doiron is the convener of Church for Neighbors in Portland, Ore. Instead of renting or purchasing a church space, Cory partnered with his denomination to purchase a home. He lives there with his family, and the church members—who all live close by—gather in his home and their homes multiple nights a week to share life and faith. They have replicated this model in other Portland communities as he raises up new leaders and vision, becoming a cluster of small community-based house churches. In the midst of all this life together, Cory is very clear that worship is not the center of community life at Church for Neighbors.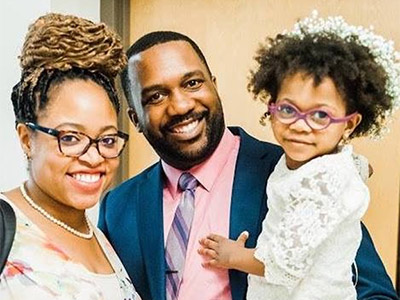 Rick Mason is a non-profit professional and a member of Mosaic Church in Pittsburgh. Mosaic is a diverse church community with a volunteer pastor and a unique origin story about 20 years ago. As they faced a leadership transition, Rick suspected that Mosaic's members had a different sense of who the church was in terms of how they shared life as a diverse group. At a time when racism and white supremacy are making headlines locally and nationally, Rick wondered why his church wasn't talking about these issues. His project started some of those conversations and brought to the surface a space for the church to envision who it is as it walks forward into this transitional season.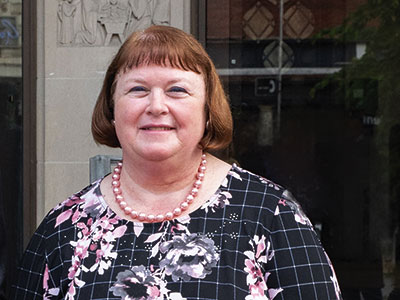 The Rev. Dr. Judi Slater has been serving First Presbyterian Church Duquesne for more than two decades. First PC is a smaller congregation with a big heart for ministry in the community. As a long-term ministry presence in the Mon Valley, First Presbyterian has become a thriving multi-cultural faith community, where Judi's energy and wisdom support the vision of a dynamic and welcoming Congregation. Their projects include a mission store, a community garden, monthly food boxes for senior citizens, food and library boxes in the yard, an Open Table mission that helps young adults raised in poverty move forward in reaching their life goals, and a children/youth community outreach program.
Pittsburgh Theological Seminary also offers an M.Div. with a Emphasis in Forming New Faith Communities as a part of the Center for Adaptive and Innovative Ministry.
Graduate Certificate in Adaptive and Innovative Ministry Student Learning Outcomes
Outcomes
Develop, describe, and make use of a theologically-informed, contextually-aware, mission-shaped vision for ministry.
Form a community in the student's ministry context which is rooted in Christian practices and leads the community in spiritual discernment.
Engage in practices that support ongoing vocational discernment and articulate a deepening sense of call.
Demonstrate knowledge of racism in historical, social, and cultural contexts.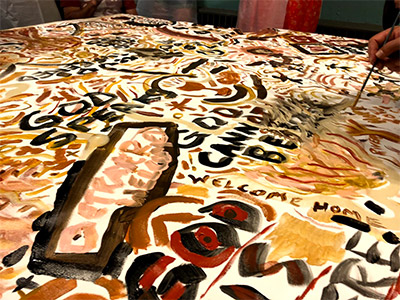 Innovators Reflect on Mamie Elizabeth Till-Mobley
June 8, 2021
In the Seminary's Center for Adaptive and Innovative Ministry, we believe being together and sharing the stuff of life forms community. This belief ... READ MORE
Inside the PTS Curriculum: Planting and Leading New Faith Communities
October 23, 2020
The "Inside the PTS Curriculum" series gives you an inside look at what students are learning in their courses at Pittsburgh Theological Seminary. ... READ MORE