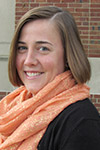 Karen Rohrer
The Rev. Karen Rohrer is the director of the Center for Adaptive and Innovative Ministry at Pittsburgh Theological Seminary and a PCUSA pastor. Before moving to Pittsburgh, she was the founding co-pastor of Beacon Church in Philadelphia where she became dog parent to the winsome pit bull, Melody, and the wife of the Rev. Andy Greenhow, Presbyterian pastor and life-sized cartoon. She proudly serves on the New Worshiping Communities Commission of Pittsburgh Presbytery, the Task Force of Commonwealth of Oakland, the Mission Development Resources Committee of the General Assembly (PCUSA), as well as serving as a coach and a leadership assessor with the 1001 New Worshiping Communities movement. Her first edited book, Sustaining Grace: Innovative Ecosystems for New Faith Communities, came out summer 2020 from Wipf & Stock. She is a graduate of the University of Mary Washington and Princeton Theological Seminary and is a current student in the Doctor of Ministry in Creative Writing and Public Theology focus at Pittsburgh Seminary.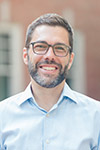 Scott Hagley
Dr. Scott Hagley joined the Pittsburgh Seminary faculty in 2015. Formerly, he served as director of education at Forge Canada in Surrey, British Columbia, where he worked to develop curriculum for the formation of missional leaders in hubs across Canada. He also served as teaching pastor at Southside Community Church, a multi-site church in the Vancouver metro area organized around neighborhood-based missional communities. Dr. Hagley received a B.A. in youth ministry and communication from Bethel University, an M.Div. from Regent College, and a Ph.D. (with distinction) in congregational mission and leadership from Luther Seminary. His doctoral dissertation attended to the lived theology of an urban congregation in its public, evangelical, and missional dimensions. Dr. Hagley has also taught courses at Augsburg College, Rochester College, Bethel University, and Luther Seminary, and previously he was a consultant and researcher with Church Innovations Institute. His most recent book is Eat What is Set Before You: A Missiology of the Congregation in Context (Urban Loft, 2019).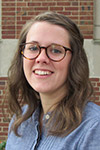 Jane Larson
Jane Larson serves as the program and enrollment coordinator for the Center for Adaptive and Innovative Ministry and the Doctor of Ministry Program at Pittsburgh Theological Seminary, where she also completed her M.Div. and the Graduate Certificate in Adaptive and Innovative Ministry. Jane finds deep joy in sharing food and drink with friends and neighbors, hiking through both woods and desert alike, and returning to her roots in Western New York. Jane helped to start a 1001 New Worshiping Community in Pittsburgh called Sanctuary. She guides prospective students through the admission process and facilitates student support and program initiatives for the Center for Adaptive and Innovative Ministry.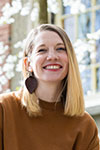 Katelyn Fisher
Katelyn Fisher serves as the administrative assistant for the Center for Adaptive and Innovative Ministry at Pittsburgh Theological Seminary. She was part of the first cohort to receive a graduate certificate in Church Planting and Revitalization (which is now Adaptive and Innovative Ministry) at the Seminary, and then went on to recently complete her MTS degree at PTS. In her time away from the Seminary, Katelyn moonlights as a florist and small business owner, and is enthralled by all manner of flowers and foliage growing up from the ground. She is a native of Pittsburgh where she lives with her spouse, the Rev. Josh Fisher '14'18, and three sweet, wild kiddos.