Lectures
Free lectures featuring some of today's most prominent archaeologists are held throughout the year. The Museum is open before and after the lectures.
Upcoming Lectures
Adventures and Discoveries from Half a Century of Life as an Archaeologist
Thurs., March 28, 2019
7:30 p.m.
Knox Room, Long Hall
Museum Curator Emerita Nancy Lapp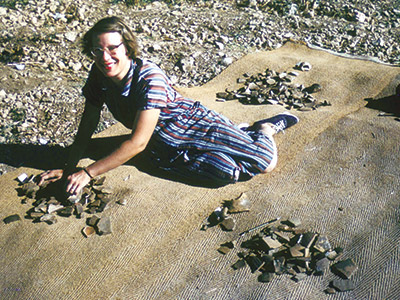 From 1955, when Nancy Lapp became the first female student of William F. Albright (the "father of American Near Eastern archaeology") to her overnight stay in a sandy wadi of the Iraqi desert in 1958 . . . from her unexpected journey on a Russian ship to Beirut in 1960 to local revolutions and a regional war . . . from her becoming curator of the Kelso Bible Lands Museum in 1970 to her travels and numerous publications of today, Nancy's archaeological journey has spanned more than half a century and included a treasure trove of adventures and discoveries—sometimes unexpected ones, as explorations of ancient remains inevitably mixed with contemporary events. On March 28, Nancy will recount stories from her life and career to illustrate the changes in Near Eastern archaeology during the course of her work and study from the late 1950s to the present day. Her personal story provides valuable insights into the emerging history of a modern-day discipline.
Since 1970, Nancy has produced and edited reports on excavations in Jordan and on the West Bank at sites such as Shechem, Tell el-Ful (possibly Gibeah of Saul), the Wadi ed-Daliyeh (where caves yielded manuscripts dating from the fourth century BCE), and the Dead Sea Plain (perhaps the area where Sodom and Gomorrah were located). Her excavation report Tell er-Rumeith (ASOR, 2015) describes discoveries from a Jordanian site near the Syrian border important for its remains from the time when Israel's kings were encountering the Arameans. With co-editor Hamed Salem, Nancy published Figurines to Bones: Studies of Some Finds from the 1963-1968 Excavations at Tell Ta'annek (Birzeit University, 2015), an important town near Megiddo where Deborah's army fought the kings of Canaan (Judg 5:19) and which the biblical writers assigned to the Kohathite families of Levitical priests (Num 35:1–8; Josh 21:25). And she is currently completing a second volume on Araq el-Emir, the location of a Hellenistic estate between Amman and Jerusalem in Transjordan.
In recognition of Nancy's important contributions to Near Eastern archaeology, the American Schools of Oriental Research named a new award after her—The Nancy Lapp Popular Book Award, first presented in November 2015. Come hear the Kelso Museum of Near Eastern Archaeology's Curator Emerita Nancy Lapp present a history of modern-day archaeology through her personal experiences. The Museum will be open from 6:30-7:15 p.m. and after the lecture. The lecture and reception to follow are free and open to the public.
Thurs., May 9, 2019
7:30 p.m.
Knox Room, Long Hall
Professor Karel van der Toorn
University of Amsterdam
Professor Karel van der Toorn will lecture on the ancient Hebrew colony at Elephantine, Egypt. He has recently published a book on many of the texts from there, several of which are Hebrew psalms.
The Kelso Museum of Near Eastern Archaeology will be open from 6:30-7:15 p.m. and after the lecture. The lecture and reception to follow are free and open to the public.
Interested in learning more about future lectures and events? Send your name and address to museum@pts.edu to be added to the mailing list.
Continuing Education
When space is available, archaeology courses at PTS may be audited through the Registrar's Office. Because PTS courses are graduate level, a bachelor's degree is normally a prerequisite. Check the list of upcoming available courses.