Lectures
Free lectures featuring some of today's most prominent archaeologists are held throughout the year. The Museum is open before and after the lectures.
Upcoming Lectures
More Than Just Mosaics: The Ancient Synagogue at Huqoq in Galilee
Jodi Magness
April 12, 2018
7:30 p.m.
Knox Room, Long Hall
Since 2011, Professor Jodi Magness has directed excavations in the ancient village of Huqoq in Israel's Galilee, and since 2012 she has uncovered a series of stunning mosaics relating to biblical narratives. The excavations have brought to light the remains of a monumental Late Roman synagogue paved with unique mosaics, including depictions of the biblical hero Samson, Noah's Ark, and the first non-biblical story ever discovered decorating an ancient synagogue. One recently found mosaic depicts a scene in which elephants are outfitted for battle, a detail that calls to mind the account of the revolt mounted in the mid-second century BCE against the Seleucid Empire by a group of Judean leaders known as the Maccabees.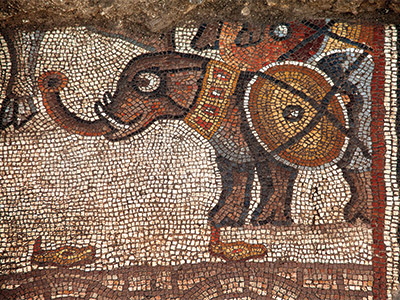 But interpretations of this mosaic floor differ. While some analysts see it as a depiction of an attack on Jerusalem by King Antiochus VII in 132 BCE, Professor Magness views it as part of a legend that had grown up around none other than Alexander the Great and that had persisted through later centuries. (Alexander died in 323 BCE, and the mosaic dates to the fifth century CE.) "The whole point of the Alexander legend is to show that even Alexander the Great, the greatest of the Greek kings, acknowledged the greatness of the god of Israel," Magness told National Geographic magazine in a 2016 interview. Come hear the excavator herself tell the story of discovering the amazing Huqoq mosaic and unravel the details of the historical figures and images it presents.
The Kelso Museum of Near Eastern Archaeology will be open from 6:30-7:15 p.m. and after the lecture. The lecture and reception to follow are free and open to the public.
Interested in learning more about future lectures and events? Send your name and address to museum@pts.edu to be added to the mailing list.
Continuing Education
When space is available, archaeology courses at PTS may be audited through the Registrar's Office. Because PTS courses are graduate level, a bachelor's degree is normally a prerequisite. Check the list of upcoming available courses.